Alumni Profile
Thriller novelist Andy Harp, SPA/BA '73, spearheads the first ever USO tour of authors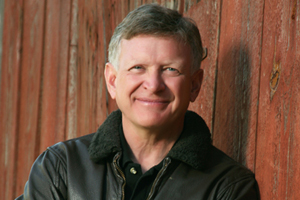 As the C-130J "Super Hercules" began its final approach into Iraq, a platoon of Marines was accompanied by five civilians. This 2010 landing heralded Operation Thriller, a USO tour conceived by alumnus Andy Harp, SPA/BA '73.

Harp recognized a connection between US service members and their love of reading, especially thrillers, and he conceptualized the idea of authors going on a USO overseas tour. So for the first time in its 70 year history, the USO sent an elite group of novelists to an active war zone.

As a retired Marine officer and novelist, Harp was an ideal chairman of the first tour, serving as the liaison between International Thriller Writers (ITW) and the USO to make the idea become a reality. Operation Thriller crisscrossed Iraq and Kuwait. During a whirlwind tour, the authors met thousands of troops and thanked them for their service.

Harp was accompanied by New York Times bestselling authors, and ITW members, David Morrell, creator of the iconic character Rambo; James Rollins, who wrote an Indiana Jones adventure; Douglas Preston, whose novel RELIC became a major motion picture; and Steve Berry, who has entertained readers with his dynamic character, Cotton Malone. Service members have stories to tell, and many were grateful for the opportunity to talk with these experts.

"It was rewarding beyond words," Harp says. "We weren't there to promote ourselves or our books. We were there to shake hands and personally thank our troops for their service to America. And, yet, everywhere we went, our service members went out of their way to thank us!"

Colonel USMCR (Ret.) Harp knows what it means to serve. After graduating from the School of Public Affairs, Harp built a distinguished career as an active-duty and reserve Marine Corps officer and later as an attorney. As a novelist, Harp draws upon his tours of duty for inspiration. "I had the opportunity to serve in both the Pentagon and operation centers in the fleet Marine Corps. It gave me a military perspective that gives great credibility to my fictional tales. Clearly, however, visiting with troops serving in the Persian Gulf was very special."

During his military career, Harp could look to his experiences as the lead runner for AU's 1971 cross country team, which finished 19th in the nation. He recalls competing against Steve Prefontaine and other Olympians at the NCAA national championships in cross country. As a novelist, Harp recalls, "I believe my writing career probably began at American. Writing involves observation, and American, being in the heart of it all, gave me many opportunities to do just that."

In 2007, A Northern Thunder, Harp's novel, debuted and was described by Booklist as a "heart-pounding" fast paced, "bold thriller" involving the North Korean threat. "North Korea represents a bigger threat than most Americans realize," he says. Because his thriller carries such interest and accuracy, Harp has appeared on the BBC's "5 Live" radio show, has been interviewed by Voice of America, and has written for CNN's Larry King Live.

Operation Thriller paved the way for a second USO tour, supporting the USO's mission to lift the spirits of America's troops and their families. Harp's vision of sharing his passion for thrillers with service members overseas reflects an ongoing commitment to serve reflected by his time at AU and in the military.
Harp's latest book, called Retribution, will be published in late summer 2012.