Alumni
Announcing the 2015 AU Alumni Award Winners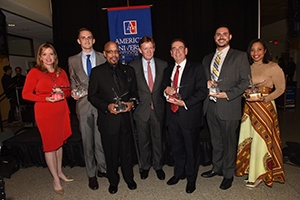 American University is known for its accomplished alumni. AU graduates are thought leaders, business leaders, and world leaders. This year, the university's Alumni Association celebrates seven outstanding alumni for their achievements.
The American University Alumni Board and the Office of Alumni Relations are pleased to announce the recipients of the 2015 Alumni Awards. Selected annually from nominations submitted by faculty, staff, and alumni from around the world, these awards are the highest honors presented by the Alumni Association. The 2015 Alumni Award winners are:
Alumni Achievement Award – David C. Wajsgras, Kogod/MBA '89 and Current Parent
The Alumni Achievement Award recognizes alumni who have distinguished themselves through their professional accomplishments.
David C. Wajsgras's professional accomplishments include two leadership positions in Raytheon Company, a publicly-traded Fortune 500 company, since he joined the company in 2006. Earlier this year, he was named vice president and president of its Intelligence, Information and Services business, one of four divisions at Raytheon. He is also the executive champion of Raytheon's Persons with DisAbilities (RPDA) Employee Resource Group, an organization that works as a strategic partner across the company to facilitate a fully accessible and supportive workplace for employees with disabilities.
Prior to his current role, Mr. Wajsgras was senior vice president and chief financial officer. As a member of the senior leadership team, he directed Raytheon's overall financial strategy. Prior to joining Raytheon, Mr. Wajsgras was executive vice president and chief financial officer of Lear Corporation. AS CFO, he led strategic repositioning and restructuring of the company and drove the successful completion of several domestic and international acquisitions.
In recognition of his professional accomplishments, Mr. Wajsgras was named a top financial executive by The Wall Street Journal in the publication's inaugural list of the 20 "Best CFOs of 2012" among larger companies in the S&P 500.
In addition to his studies at AU, Mr. Wajsgras earned a bachelor's degree in accounting from the University of Maryland in College Park. He is a member of the Kogod Advisory Council, the board of trustees of the Lahey Clinic Foundation in Burlington, Mass., the Corporate Executive Board, and the Manufacturer's Alliance/MAPI. Mr. Wajsgras is married to Teena Wajsgras, and they have three children, including Aaron, a current student at AU in the MBA and MPA programs.
Alumni Achievement Award – Claiborne D. Haughton Jr., SPA/MPA '80
Claiborne Haughton is president and chief executive officer of The Haughton Group, LLC, a diversity consulting and motivational speaking company in Arlington, Va.
Mr. Haughton retired as the Acting Deputy Assistant Secretary of Defense for Equal Opportunity, Office of the Under Secretary of Defense for Personnel and Readiness on June 6, 2002 after 35 years of service with the Department of Defense. At DOD, he managed the development and coordination of equal opportunity, affirmative action, and diversity laws, regulations, and Executive Orders affecting virtually all DOD military and civilian personnel worldwide as well as DOD contractors and DOD Federally Assisted Programs. He was a charter member of the Senior Executive Service and the ranking career equal opportunity executive at the Pentagon for 23 years.
In recognition of his accomplishments with the DOD, Mr. Haughton was honored with many awards and accolades. They include the 1995 Making of the King Holiday Award from Mrs. Coretta Scott King and the Martin Luther King, Jr. Federal Holiday Commission, the 1995 Presidential Rank of Meritorious Senior Executive from President Bill Clinton, the 1998 Secretary of Defense Citation for Outstanding Mentor in the DOD Executive Leadership Development Program, the Roy Wilkins Meritorious Service Award and Benjamin Hooks Distinguished Service Award from the NAACP, and the DOD Medal for Distinguished Civilian Service with Bronze Palm—the highest DOD career award. Most recently, in May 2015, he received the Dillard University Alumni Dave Dennis Lifetime Achievement Award.
Alumni Recognition Award – Robyn Rafferty Mathias, CAS/BA '64, WCL/JD '67, Trustee, Former Parent
The Alumni Recognition Award recognizes alumni who inspire the world around them through service to a philanthropic mission or the AU community.
Robyn Rafferty Mathias is an active supporter of education at AU and in the Washington DC area. She retired as principal of Rolling Terrace Elementary School in Takoma Park and now spends much of her time volunteering for educational programs. She has been a member of the AU Board of Trustees since 1991, is a current member of the AU Arts Council, and was the former chair of the CAS Advisory Board.
Dr. Mathias has given extensively to AU to support student research and established the Robyn Rafferty Mathias Fund to provide resources to graduate students completing thesis and dissertation research, undergraduate students pursuing internships, and faculty members completing collaborative research projects. Her support also made it possible to award prizes for the best papers and posters at the annual student research conference. The conference, established in 1990, celebrated its 25th anniversary in March 2015. As a result of her generous efforts, the research conference was renamed the Robyn Rafferty Mathias Student Research Conference in 2005.
In recognition of her dedication and support to the AU community, Dr. Mathias received the President's Award in 2006. The award recognizes members of the AU community who have demonstrated outstanding commitment to AU through leadership and philanthropic support.
Alumni Recognition Award – Chazeman S. Jackson, CAS/MA '04
Chazeman S. Jackson, a native of Natchez, Miss., is a health science advisor in the Office of Minority Health at the U.S. Department of Health and Human Services. In acknowledgement of her leadership and excellence in science, Dr. Jackson joined the department in 2010 as an Emerging Leader fellow. Even more notably, she received a Bachelor of Arts degree in humanities with an emphasis in philosophy from Tougaloo College, a Master of Arts degree in biology from American University, and a Doctor of Philosophy in microbiology from Howard University.
Dr. Jackson's research has focused on understanding the complexities of genetic variation within the context of health disparities. She has served as a biologist in the Division of Molecular and Cellular Biosciences at the National Science Foundation and as a health scientist at the National Institute on Minority Health and Health Disparities at the National Institutes of Health.
During her tenure as an Emerging Leader, Dr. Jackson worked as both an international health analyst and a public health analyst in the HHS Office of Global Affairs and the Office of the Assistant Secretary for Health, respectively. In these positions, she provided advisory support to the U.S. Delegation for the 64th World Health Assembly in Geneva, Switzerland, and helped to lead the development of the 2012 HHS Environmental Justice Strategy.
A health advocate and social activist, Dr. Jackson commits her time and talents to a spectrum of public services that impact her community. She enjoys mentoring students in science, technology, education, and medicine. Dr. Jackson serves on several councils and boards, including the American University Science Council and the American Heart Association Diversity Leadership Committee. She is a founding member of the AU Science Council and has previously served as a mentor for AU's Women in Sciences program.
Dr. Jackson has received several honors and awards due to her service to the community, including being named UNCF's Outstanding Young Alumnus in 2004. In 2009, she was the first recipient of the Grace Walker Phillips Young Adult Leadership Award given at the Dr. Martin Luther King, Jr. Commemorative Celebration program. In 2012, she was named an Emerging Leader designated to the National Institute on Minority Health and Health Disparities at the National Institutes of Health. She was also the inaugural recipient of the Gates Millennium Scholarship.
Alumni Eagle Award – Erin Fuller, SPA/BA '93; SPA/MPA '94
The Alumni Eagle Award recognizes alumni who have rendered outstanding service to the university and/or the Alumni Association.
Erin Fuller is president of the Coulter Companies, a management, events, consulting, and marketing firm. She joined Coulter as a senior associate in 2002 and was appointed vice president in 2006, group president in 2009, and president in 2013. Erin leads Coulter's team of more than 80 professionals who focus on nonprofit management and assesses business development and partnership opportunities. She is a noted expert on nonprofit management and women's issues, and has appeared on programs including NBC Nightly News, CBS's MarketWatch, ABC News, Fox News, NPR's Marketplace, and BBC's America. She has been quoted in publications, including the New York Times, the Washington Post, Forbes, Fortune and Newsweek.
Ms. Fuller is an avid supporter of the AU community. She is a member of both the SOC Dean's Council and the SPA Dean's Council and is a former president of the AU Alumni Board. As president of the Alumni Board, she successfully transformed the Alumni Board into a thriving organization. She stewarded new programs, such as student-alumni dinners, and increased the board in membership, stature, and in philanthropic dollars. She is also a tremendous advocate for faculty and students in the Women and Politics Institute. She is a frequent guest lecturer in WPI classes, a member of the institute's Director's Circle, and a supporter of WPI through philanthropic gifts. Erin's outstanding leadership skills and deep enthusiasm for AU will impact the university for years to come.
Rising Star Award – Jason Gold, SOC/BA '05
The Rising Star Award recognizes young alumni (those who received their degree within the last 10 years) who are already making significant contributions to greater society through professional or philanthropic work.
Jason Gold is vice president of production at AMC Television. He oversees the day-to-day operations of AMC Network and AMC Studios' scripted series, including The Walking Dead, Better Call Saul, Fear The Walking Dead and Turn: Washington's Spies. He was a production executive on the Emmy- and Golden Globe-winning series Breaking Bad and Mad Men, as well as The Killing, Rubicon, Low Winter Sun, The Prisoner, and several other pilots and web series. He is also supervising upcoming series, including Into The Badlands, Broke and the pilot for Preacher. Mr. Gold began his career at AMC in 2008 as production coordinator.
Prior to working at AMC Television, Mr. Gold was an assistant at the Kaplan Stahler Gumer Braun Agency before moving on to DreamWorks SKG. Shortly after, he worked as a literary coordinator at Artist International Management.
Mr. Gold is a member of the Academy of Television Arts and Sciences, the Hollywood Radio Television Society, and was selected to the inaugural HRTS Next Gen Committee in 2011. He is also an avid supporter of the AU community and the Entertainment and Media Alumni Alliance.
Rising Star Award – Christopher A. Obermeyer, CAS/MEd '13
Mr. Obermeyer is a teacher at Cardozo Education Campus's International Academy, where he is an advocate for immigrant, minority, and LGBTQ youth. He assists students with access to resources and services that they need and deserve. Mr. Obermeyer advocated for Cardozo to institute a LGBTQ Pride Day. He also serves as a mentor at the International Academy and trains students on how to advocate for themselves, their communities, and others in need.
This summer, Mr. Obermeyer completed a graduate certificate in LGBT health practice and policy, which he informs his advocacy work. Chris regularly collaborates with organizations across the country to support LGBTQ youth and has provided trainings to many youth serving agencies. In the future, he plans to expand his advocacy work to provide more support for LGBTQ undocumented youth.
Prior to working at the International Academy, he taught biology and environmental science for three years at Wilson Senior High School, while earning his master's degree in education from American University. While at Wilson, Mr. Obermeyer had many roles and achievements, but most notably he organized the city's first ever LGBTQ Pride Day in a public school.
Mr. Obermeyer is an active volunteer at SMYAL (Supporting and Mentoring Youth Advocates and Leaders) where he serves on the Young Donors Committee and helped raise more than $25,000. Mr. Obermeyer is also an active member of the Youth Working Group at the DC Center where he is currently working to make health education relevant to LGBTQ youth and suicide prevention training mandatory for all school-based personnel in the District. Mr. Obermeyer's extensive efforts to improve the lives of youth earned him the 2014 Mayor's Community Service Award.
To learn more about the 2016 Alumni Awards nomination process, contact Isaac Thweatt, director of alumni outreach, at 202-885-5930.
This story has been updated. It was originally published on August 21, 2015.