Alumni Profile
Athletics inducts Gary Williams and Dickie Wells into Hall of Fame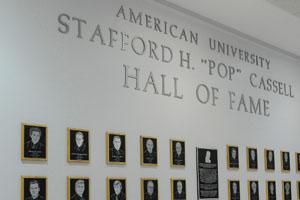 The American University Department of Athletics and Recreation will honor former head men's basketball coach Gary Williams and former men's basketball player Dickie Wells, CAS/BA '65 with induction into the 43rd class of the Stafford H. "Pop" Cassell Hall of Fame.

Gary Williams posted an overall record of 72-42 in four seasons at the helm of the basketball program from 1978 to 1982. He led American to two consecutive 20-win seasons, the first since the 1959-60 season. The Eagles earned two National Invitational Tournament berths and went to the East Coast Conference Championships in all four seasons under Williams. Williams retired from coaching this past off-season after 22 years at the University of Maryland and 33 years overall. He finished with 668 career wins and led the Terps to the 2002 National Championship.
Dickie Wells is the has the second-highest number of rebounds in AU history with 1,184 and sixth and eighth in individual seasons with 433 and 412, respectively. He also ranks third with 16 free throws made in a single game at Towson. Wells was the first Eagle to receive All-American honors when he was named a Little College All-American Honorable Mention in 1958. He was also named an NCAA College Division Honorable Mention in 1960. Wells was the first African-American player at American and the Mason-Dixon Conference. Wells will be inducted posthumously. His brother, Ed Wells, will accept the honor on his behalf.
The Stafford H. "Pop" Cassell Hall of Fame was created in 1969. Sponsored by the Cassell Family, the Hall of Fame was established to recognize the achievements and contributions of individuals associated with American University Athletics and Recreation. This year's induction ceremony will take place on at noon on February 25 in the Abramson Family Founders Room at the School of International Service. Festivities will follow the induction luncheon, with a silent auction at 3 p.m. and the men's basketball game against Lafayette at 4 p.m. Both the auction and game will be in Bender Arena.
Tickets are $65 and include the Hall of Fame luncheon and induction ceremony as well as a seat for the American vs. Lafayette game. To reserve your ticket, please contact Brian Brantley at 202-885-3104 or brianb@american.edu.