Alumni
AU Alumna Inspires Women to Run for Office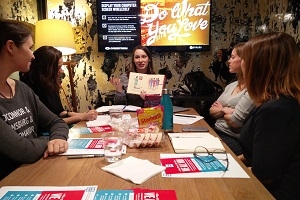 Like many students of AU's School of Public Affairs, Clare Bresnahan, SPA/BA '08, arrived in DC with an interest in politics. Nearly a decade later, she's using her passion for public affairs and her AU experience to inspire other women to take political action.
Bresnahan arrived in DC from Ohio in fall 2004. A Communications, Law, Economics, and Government (CLEG) major, she intended to leverage her education into a career in politics. "I was so jazzed by politics," she said. "But once I got there imposter syndrome set in. I thought, 'if this is what politics is like then I don't really know if this is the right place for me.'" Instead of changing her academic focus, she used her major, involvement on campus, and internship opportunities to help identify her career path.
In January of her senior year, Bresnahan's father passed away of a heart attack. "After my father passed away, I woke up and said 'I don't need to take myself out of the game.' I just decided I wasn't going to hold back anymore."
Her senior year internship with Girls, Inc.'s public policy office connected her to Girl Scouts of America, where she accepted her first post-college job in the organization's national policy office. 
"It was a risky choice," said Bresnahan. "It was originally a six-month position but I got the sense from the women I worked with in the office that they were smart. They were women who had been in DC for years. I could learn a lot from these women, and they were the type that would really invest in mentorships." She approached the opportunity with the resolve to make herself indispensable at the end of her six-month appointment. 
Bresnahan's experience included lobbying and advocacy responsibilities and allowed her to help impact advocacy work at the state government level. "I had responsibilities way beyond what a normal 22 year old would have, but they trusted me and gave me a huge opportunity to step into my power."
After nearly four years with Girl Scouts of the USA America (GSUSA), Bresnahan was afforded the opportunity in 2012 to become programs director for She Should Run, a non-partisan 501(c)3 organization dedicated to expanding the pool of future elected female leaders and creating a culture that inspires women and girls to aspire to public leadership. 
The culture change that She Should Run works to inspire is personal to Bresnahan's own experience and ambitions. "I always dreamed of running for office and people said 'that's so weird.' I speak to so many girls, especially so many girls of color, who say 'if I had known about those women's stories, I would have dreamed different dreams.'"
Bresnahan currently serves as executive director of She Should Run. In her role, she leads a team of staff members, collaborates with external affiliates on strategic partnerships (including a partnership with Mattel's Barbie), and manages donor and stakeholder relationships. Her work centers around inspiring women to run for office, which she described as "making sure programs and other initiatives help them to own that ambition and keep them moving, keep them going on that journey." 
"I can't go a week without seeing that experience of a woman or a girl transform their vision of what their life could look like," she said of her work. "There is nothing like seeing how the work expands what someone thinks they can do with their life."
Bresnahan has a great deal of ambition for her future, but credits AU as an influence on her success thus far. "American University was pivotal in deepening and expanding my understanding of social justice issues," said Bresnahan. "There's a lot of work that needs to be done, and I learned a lot of those lessons at AU."