Alumni Profile
AU Alumnus Sees Success at SXSW Film Festival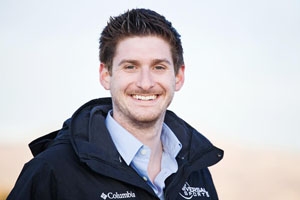 You could say things have been going pretty well for AU alumnus Chris Leggett, SOC/BA '08. In March, he won the Audience Award at the South by Southwest Film Festival as a producer for The Short Game, a documentary following eight seven-year-old golfers vying for the top spot at the World Championships of the Junior Golf tournament in North Carolina. The film received a second Audience Award at the Maui Film Festival this June.

But before he was an award-winning producer, Chris was a student in visual media at American University. Chris was attracted to AU for many reasons including the inviting community, the experienced professors, and the connection he developed with the university's swim team.

Chris acknowledges the influence his time as a competitive swimmer at AU has had on his career, specifically his work ethic. He says, "I may not be the best producer yet, but I definitely work the hardest. It's all about pushing yourself to the limit, and that's what you do in athletics. The word 'no' should not be in your vocabulary; it should be 'how.'"

That work ethic shows itself not just in the recent success of The Short Game, but also in the other projects with which Chris keeps himself busy. He covered the 2010 and 2012 Olympics and produced a Webby Award-winning music video for the song "Fjögur píanó" by Icelandic band Sigur Rós. Even though juggling multiple projects often means scheduling "too many meetings, overlapping meetings," Chris says this makes being a producer "probably the most exciting job in the world."


For those who are looking to get into the field, Chris's advice is to "make your own rules" and constantly learn. "The film industry is evolving every day but you're never doing the same thing twice. Just embrace that," he says.

The Short Game will be in theaters at the end of the summer. Watch the trailer and learn more about the film.