Alumni Profile
Business & Public Affairs: A Perfect Marriage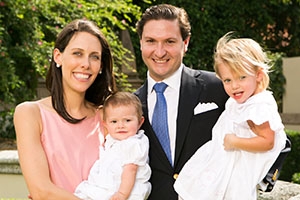 Ben, Kogod/MBA '11, and Christina Macfarland, SPA/MPA '11, came to AU together, shortly after getting married in their native state of Florida, to pursue their individual academic and professional interests. Christina's passion for nonprofit work and supporting her community led her to pursue a Master of Public Administration and,a graduate certificate in nonprofit management, whereas Ben built off his undergrad business degree by focusing his MBA studies on real estate and finance. Since graduation, they have returned to their home state to not only put their degrees to work, but also spread word of AU's excellence while galvanizing the Florida alumni community. 
This past February, Christina and Ben hosted more than 60 AU alumni, parents, and friends in their Palm Beach home, and had the chance to catch up with their old neighbor, Vice President of Alumni Relations and Development, Dr. Thomas J. Minar. Before Dr. Minar delivered updates regarding campus plans and alumni initiatives within the South Florida community, Christina reminisced about her time working in the AU development department for corporate and foundation giving, and Ben remembered hunkering down in their condo during the infamous Snow-maggedon storm of 2010. 
These types of close relationships serve as a beautiful model for how the Office of Alumni Relations and Development seeks to engage AU alumni, and Christina and Ben are no strangers to the world of philanthropy and volunteering. Christina is a board member for the Community Foundation for Palm Beach and Martin Counties, where fellow master's alumna Jillian Vukusich, CAS/MA '04, serves as vice president for community investment.  
Christina continues her educational pursuits, and is a recent graduate of "Leadership Palm Beach County," which kept her up to date on the latest trends in philanthropic and non profit leadership. This is especially important for those as involved in their communities as she is. She volunteers and has served on numerous committees for The Flagler Museum, March of Dimes, Historical Society of Palm Beach County, the Ryan Licht Sang Bipolar Foundation, and the Association of Fundraising Professionals. Presently, Christina performs research and writing for Women Corporate Directors, the only global membership organization of women corporate directors which serves as a catalyst for thought leadership and networking.
In addition to serving on his high school's alumni board and helping to recruit great students to AU, Ben founded a local publication, Palm Beach Philanthropy, to showcase and educate the public to the diverse causes being supported right in their backyard. While philanthropy has always been a passion and a practice for the Macfarlands, Ben also puts his MBA to work running a boutique asset management firm that focuses on investing family office and institutional capital into self storage, student housing, and other special situations in real estate. The firm, where Ben serves as a partner and chief investment officer, has successfully acquired over two million square feet of real estate in the last two years.

The Macfarlands' collective energy and productivity is even more impressive in light of the fact they've accomplished so much all while raising their blossoming family. While their two young girls are a handful at home, Ben and Christina have a long standing history of supporting each other through thick and thin. While on campus, they could be seen attending a kick-off event to help rally support for Christina's successful run for Editor-in-Chief of the SPA journal The Public Purpose, and nowadays they work to balance their busy schedules of business and board meetings with family meals and outings. 
Thankfully, the Macfarlands have continued their tradition of support as alumni by hosting the recent event for the South Florida AU Eagle community. As for the beautiful marriage of Ben's business degree and Christina's nonprofit policy focus, its power can be encapsulated by an Arthur Fried quote: "Private philanthropy is the last frontier of unconstrained freedom for private action in the public good." AU is lucky to count this entrepreneurial and philanthropically minded young couple among its alumni family.