Alumni Success Story
PR Man: Bill Reihl Understands How We Shop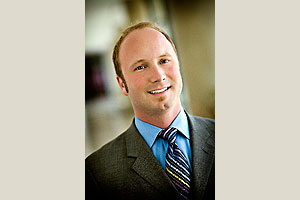 Bill Reihl found his way to American University by getting lost in Washington, D.C. Driving home to the Eastern Shore of Maryland from a Capitol Hill event, Reihl erroneously headed north on Massachusetts Avenue and saw the large American University sign. "Wow! What is this school?" he wondered. As soon as he drove on campus, he knew where he'd be spending the next four years after high school.
"I was interested in performing arts, business, communications, and politics," Reihl, SOC/BA '94, says. "I realized that fate brought me to campus."
Narrowing down his interests to communications, Reihl then had to decide between journalism and public relations. "Washington, D.C. ,was the campus," he says. "I loved practical experiences with so many fantastic adjuncts and job opportunities in the district."
Reihl eventually chose a career in public relations because of the variety of work he could do at an agency. As executive vice president for strategy and planning at Ogilvy Public Relations Worldwide, he has high-profile clients, such as Unilever (Lipton Tea, Slim-Fast, Bertolli), Pepsico, Quaker Oats, and Tropicana. He directs the New York consumer marketing practice and collaborates with colleagues in other marketing disciplines – market research, promotions, advertising, and media relations – to devise campaigns that range from staging events to pitching articles to seeking celebrity endorsements.
He was instrumental in the award-winning Dove campaign that featured photos of real women to launch a line of personal care products. Market research revealed that women were not happy with their self-image, which was further lowered by "other companies broadcasting unattainable beauty standards," Reihl says. After 50 years of producing soap, the successful Dove campaign encouraged women "to define your own beauty."
The "Do you know a Brawny Man?" contest remains one of Reihl's biggest professional accomplishments during his tenure at Edelman Public Relations. "We got thousands of responses and heart-warming stories with nominations" for worthy men to grace the package of Brawny paper towels.
The fast-paced, competitive world of public relations satisfies Reihl's passion for "well-roundedness." He is constantly taking in stimuli from different sources: travel, visual and performing arts, and literature. "I work very hard and play very hard," he says.