Alumni Profile
Alumna's Feminist Collection on Display at Library of Congress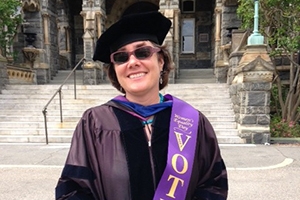 Bonnie Morris, CAS/BA '83, came to AU as a Jewish studies major and a feminist activist. She spent a transformative year abroad in Israel, where she says she was struck by the struggles of women. "It wasn't just the struggle for equal rights," she says. "I was struck by their very limited roles in society."
The young feminist in Morris returned to AU with a renewed sense of urgency for her cause and was very proud to be the first AU student to graduate with a minor in women's studies. "Also, the performing arts were fantastic," she says, recalling her days on campus. "And you had all of Washington…It's not surprising to me that I became an arts activist. Everything at AU directed me to what I did and what I wrote later." 
Now the author of 15 books, Morris says, "AU was very warm and supportive. All of that made me into the very secure person I am today." After graduating from AU, she received an MA and PhD from Binghamton University in New York, where serving as a teaching assistant, she discovered what more she wanted to do. "I discovered I really liked students," she says, "And by the time I was finished, I had lots of teaching experience."

These days, Morris teaches gender studies at both Georgetown and George Washington universities, where she has been a faculty member for 22 years. Her courses cover everything from gender in sports to music history, where her particular interest lies. "It's a great time to be a student in DC. I tell students to keep a journal so you can describe what it was like to live through this time," she says.
Morris has worked for more than 30 years as an activist in the women's community, and she specifically enjoys work with performing artists, saying women's music has been "a rallying point" for many gay women though the decades. She regularly lectures on the importance of music in the feminist movement.

Recently, Morris was invited to display portions of her personal collection at the Library of Congress. The exhibition is on display through April 3. She says it's "unbelievable" that her collection ended up in the Great North Hall of the library's Thomas Jefferson building – and that she finds herself wandering the halls of the Library of Congress every weekend telling stories to the visitors there enjoying her wares.