Alumni Success Story
Alumni Award Winner Rallies
Brothers, Raises Funds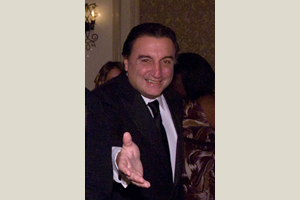 Although he isn't what you might normally picture when you think of a cheerleader, the 2008 Alumni Recognition Award winner, Ronald Boots Nissenbaum, KSB/BS '68, has a long history of bringing people together and rallying them for a good cause.
Whether he's volunteering as an AU admissions representative, leading the Philadelphia alumni chapter (2002-2006), making a gift as a generous donor, or driving down from Philly to attend yet another AU Men's Basketball game as a loyal season ticket holder, Boots has made an impression on hundreds of alumni, faculty, and students in the AU community.
Nissenbaum has been actively engaged in campus life since he first set foot here. He decided to come to AU after he found out his high school friend Dick Kirschner, SPA/BA '68, was attending. "Smartest decision I ever made," he says.  
The social chair of the Zeta Beta Tau (ZBT) fraternity, Nissenbaum was also active in the marketing club and a regular participant in the rowdy fan section at AU basketball games. Now, 40 years later, he has nothing but great memories of his college days – many involving his ZBT brothers. "I realize that American University and my experiences there were a determining part of my life."
Nissenbaum insists he's not the only one deserving of this award. He'll share it with his entire ZBT group. "I'm just the connector," he protests. "It's really about the group."
When the ZBT's from the 1960s and 1970s had their first reunion in 1985, Nissenbaum decided he was going to make sure the group stayed in touch. Since then, they've had a reunion every five years; the next one is planned for 2010. The last three reunions had nearly 150 ZBT brothers and their guests returning to campus for drinks, meetings, and camaraderie. "I haven't seen another group that gets together like we do," Nissenbaum remarks.
The ZBT brothers also established a scholarship to leave a lasting legacy at the school that brought them all together. The group has collected more than $82,000 for the Zeta Beta Tau/Donald Brenner Scholarship. "We're really the only group who's done anything like that," Nissenbaum remarks. "It's our way of leaving a permanent legacy."
As fellow ZBT brother Charles Inlander, SPA/BS '69, remarks, "It's great that Boots won this award. He's head and shoulders above others in support for the school."