Alumni Success Story
"Braven" The Odds
Marshall Thompson, CAS/BA '03, opens Braven Brewing Company in New York City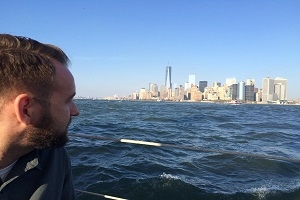 "Perseverance, patience, persistence and pride" –that is the mantra of Marshall Thompson, CAS/BA '03. Marshall is owner and CEO of Braven Brewing Company in Brooklyn, New York, and the journey to get to this point has taken several turns. 
Marshall came to American University with an interest in business. He enrolled as a freshman in Kogod, but transferred to the College of Arts and Sciences to complete his bachelor's degree in anthropology. Marshall says that he was attracted to the program because of his interest in people and culture. As an entrepreneur, he says one of the best parts of his work is meeting new people.

Appropriately, people have been a large part of Marshall's success. He credits AU for bringing together people who are "really driven, smart, and creative." Marshall's sophomore year roommate, Dan McAvoy, introduced Marshall to his now-business partner, Eric Feldman, who is a friend of Dan's from high school. 
Marshall surrounded himself with talented and creative friends during his time at AU, and most of them have stayed connected more than 10 years later. Marshall emphasized his strong support network of AU friends and family members who he says continue to encourage him to pursue his dreams. 
After graduating from AU, Marshall's first venture into entrepreneurialism was District Line, a clothing store that carried brands which were popular in the United Kingdom but hard to find stateside. Envisioned after his study abroad program in London, the store saw great success online, getting orders from all over the world. District Line closed in 2008 (during the recession), but Marshall learned from this great experience, saying "It taught me that I need to believe in what I am doing, that it needs to be authentic and real." 
Now, continuing to live by his mantra, Marshall has persevered through challenging setbacks, was patient with slow-moving bureaucracy, and persisted to fulfill his dream of opening a brewery. Braven Brewing Company, located in the historic Bushwick neighborhood of Brooklyn, will be open to the public in the spring of 2015. You don't have to wait to try their beers though –restaurants and bars all around Brooklyn will be getting Braven beers on tap by the end of this year. 
Keep an eye on the New York Young Alumni Chapter events calendar –soon Braven will be on it!