Alumni Profile
Cameron McCosh, SPA/BA '07, SPA/MPP '08, is a Washington Power Broker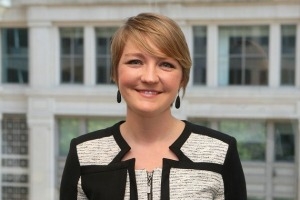 Cameron McCosh, SPA/BA '07, SPA/MPP '08, was recently named to the National Journal's list of 25 Most Influential Washington Women under 35.
Although only 28, Cameron is chief operating officer of American Action Forum, a conservative think-tank focused on domestic and economic policy.
After finishing her studies at American University with both an undergraduate degree in justice and a master's in public policy, Cameron interned with Lehman Brothers, working in government relations. Afterwards, John McCain's Chief Economic Policy Adviser approached Cameron about starting a new type of conservative think-tank that would be more reactive to the 24-hour news cycle. The rest, as they say, is history.
In a few short years, Cameron helped grow the organization from a fledgling startup to one of Washington's most influential center-right policy institutes. As COO, she is involved in nearly all aspects of the organization--from formulating policy to meeting decision makers on the Hill and advancing the forum's message. Cameron credits her time at AU as being instrumental to her development.
"When I came to AU, I didn't know what I wanted to do but I knew I loved to learn. Then I took a class from Dr. Jeffery Schaler that really questioned what I believed in, changed my outlook and sparked my interest in public policy," says Cameron. Later, as a graduate student, another professor, Dr. Sonja Walti, really showed her how public policy influences lives all around us. "Her class really opened my eyes," Cameron recalls.
While she is unsure about the future (she jokes that she barely has tomorrow planned), Cameron is confident that she'll be able to seize whatever opportunity presents itself—another skill she credits from her time at AU. Until then, she is working in an area about which she is passionate, including domestic and economic policy, and enjoying life as a newlywed, having just gotten married last summer.
Cameron continues to take advantage of AU's community. She gleefully boasts about her love of hiring AU students for internships. She also attends an occasional alumni happy hour and sometimes indulges in nostalgic jogs to her alma mater from her house in Logan Circle. Above all, she is impressed by how much the university has grown in the last few years.
"When I was at AU, which wasn't too long ago, they didn't even have the [new] SIS building, but more than that, the school's reputation has grown so much in the last few years. I love the WONK campaign. I think its so fitting." says Cameron.
Above all, Cameron advises current students to take advantage of their professors and to say yes to every opportunity that presents itself. "I took the opportunity to go back for my master's in public policy, and I can't stress how amazing that experience was," she remarks.