Alumni Profile
SIS Alumna Writes to Showcase Modern Challenges in U.S. Identity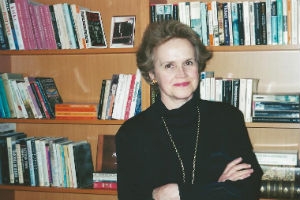 As a writer and playwright, Carla Seaquist, SIS/BA '67, strives to give space to the complicated political, cultural, and ethical-moral issues facing our country. She began her career in civil rights activism, helping to organize the women's caucus at the Brookings Institution from 1972 to 1976.
She then moved to San Diego where she served as the city's equal opportunity officer from 1977 to 1983, successfully moving women and minorities into nontraditional jobs. For this work she was awarded NOW's Susan B. Anthony award "for courage and hard work on behalf of women and minorities."
The shift from civil rights to writing was a logical progression, Seaquist says. She began working as a freelance writer until she moved on to playwriting.
During the siege of Sarajevo, Seaquist reached out to the manager of a Bosnian radio station. They built a unique relationship over the phone. She turned their conversations into a play, Who Cares?: The Washington-Sarajevo Talks, a universal drama about the saving power of human connection in chaos. This play has had three productions, including at Washington's Studio Theatre. Seaquist has written three other plays.
The shift from playwriting to more direct commentary happened on September 11, when she witnessed the Pentagon on fire. As a result, Seaquist became a contributing writer for The Christian Science Monitor and, now, The Huffington Post.
Seaquist published her first book of commentary, Manufacturing Hope: Post-9/11 Notes on Politics, Culture, Torture, and the American Character, in 2009. Her forthcoming book is titled Can America Save Itself from Decline?: Politics, Culture, Morality. She also published Two Plays of Life and Death.
"I have found the SIS take-away tool–the need to develop a conceptual framework–very useful," Seaquist states. "International relations made me a world citizen, providing me with an outlook that's global, not parochial, and a keen interest in history and other cultures–all very helpful in writing commentary."
Seaquist lives in Washington state with her husband Larry, a state legislator, and is working on a play titled Prodigal.