Alumni Success Story
SIS Alumna Changes Urban Grocery Store Industry as CEO and Co-Founder of Stockbox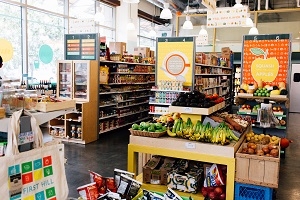 Carrie Ferrence, SIS/BA '00, grew up in a small town of nearly 150 people in Central Pennsylvania, moved to Washington, DC to attend American University, and finally relocated to Seattle, Washington. Along the way, Carrie has developed a drive and passion to build more resilient communities.
Since graduating AU, Carrie has served a diverse range of organizations from international human rights to education. Now she is in the urban grocery business. "SIS taught me the skills to understand how development principles can be applied in any area of work," Carrie says. "As the CEO and Co-Founder, I am serving the Seattle community through Stockbox, a new model for urban grocery stores to help ensure every community has access to good, fresh foods." What began as a graduate school project while attending the Bainbridge Graduate Institute at Pinchot University, began to quickly gain local, regional, and national attention. After winning the University of Washington Business Plan competition, the White House invited Stockbox founders, Carrie and her partner Jacqueline Gjurgevich, to showcase their company as an example of innovative business models making a positive impact on society and the economy. Stockbox achieves all this while serving some of the most vulnerable communities in the Seattle area.
"As CEO, I manage all external operations including marketing, fundraising, and store development," Carrie explains. "Owning a business is challenging, but I am so proud of our work knowing we have the potential to lead a large shift around the world in the urban grocery industry."
Carrie expresses how important it is to her today – even all the way in Seattle -- to still maintain relationships with friends and mentors from AU. In fact, she describes them as some of her closest relationships. "I chose AU because I liked the size and its approach to learning," Carrie says. "AU just felt like the right community for me."
She recalls being extremely busy during her time at AU. Carrie pursued a double major in international studies and Latin American Area Studies, working part time and full time jobs. She also co-founded the United Students Against Sweatshops student group, and served as a member of the Community Action and Social Justice Coalition. Not much seems to have changed as Carrie has remained busy since graduating. In 2012, Carrie and Jacqueline were named Echoing Green Fellows and in 2014 Carrie was named in the Puget Sound Business Journal "40 Under 40" list.