Alumni Profile
SOC Alumna Reports Breaking News for ABC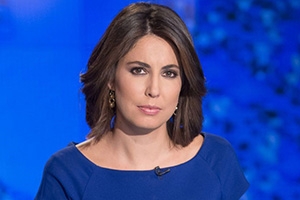 As anchor of "World News Tonight" Saturday and senior national correspondent for ABC News, Cecilia Vega's, SOC/BA '99, office is wherever the news takes her. Although she spends much of her time traveling back and forth from Los Angeles and the San Francisco Bay Area to New York, Cecilia says her time in Washington, DC and at American University gave her a start in the journalism field and provided the foundation for her success.
For Cecilia, there is no routine day in the office. Breaking news takes her all over the world. She could start her day in one city and be on her way to another continent by evening. Cecilia has reported from the bottom of the Arctic in a submarine and in London's Olympic Village. She has also covered midterm elections, interviewed Heads of State, and more recently reported on cases of Ebola in the United States. Regardless of where an assignment leads her, Cecilia says that her work gives her a sense of fulfillment as she shares information with the public to ensure they make better decisions as citizens.

After growing up in the San Francisco Bay Area, Cecilia moved to the nation's capital to attend American University's School of Communication, where she earned a degree in French and print journalism. Her busy schedule today is reflective of her experience as a student. Cecilia remembers balancing studying, working, and interning during her time on campus. Though all of these commitments were hectic at times, Cecilia says that her hard work at AU paid off.
Cecilia's job in broadcast journalism came as a total accident. She started her career as a newspaper reporter and worked for publications including the San Francisco Chronicle. When the opportunity to move from print to broadcast at KGO-TV ABC7 in San Francisco presented itself, Cecilia jumped at the chance. Though she had no formal broadcast journalism training, she quickly learned the ropes. Six years later, Cecilia is an Emmy-winning broadcaster and has appeared on ABC's "Good Morning America," "Nightline," and "20/20."
Reminiscing about her time at American University, Cecilia shared advice for students today saying, "Utilize what you have at your disposal. Being in Washington, DC, you have so much at your fingertips. Your professors are in the newsroom in the morning and teaching classes at night –it is an invaluable education. The ability to capitalize on these opportunities separates AU students from other students."