Alumni Success Story
Alumni Board Member Found Call to Public Service at AU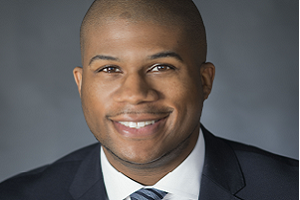 "American University's School of Public Affairs was top 10 in the nation for their public affairs program, and I knew that's where I wanted to be," says Chris Quintyne, SPA/BA '07, of his decision to attend AU. "I was born and raised in this area, but I wanted a unique experience," he adds. Chris didn't have to wait long to find just that.
While a student as AU, Chris was a member of Phi Beta Sigma Fraternity Inc., Beta Beta Chapter. "I met amazing, lifelong friends. It was a really supportive community and I am still very active with the fraternity today," he says. 
When asked about his academic experience, he remembers the exact moment things clicked for him on AU's campus.
"Dr. Andrea Lang in SPA is the reason I became a justice major. She was very nurturing, and I could bring anything to her and receive great feedback," Chris recalls. "Any class she taught, I was taking it." 
Dr. Lang's mentorship propelled Chris to further his education past earning his bachelor's degree from AU. Chris holds a law degree and master's degree in public administration from Southern University Law Center. During his academic journey, Chris always looked for ways to either intern or work where law and policy intersect. He served as a law clerk in the Louisiana House of Representatives for the Louisiana Legislative Black Caucus, held internships with the U.S. House of Representatives and Senate, and worked as a deputy clerk at DC Superior Court.
Chris is currently the management assistant for the town of Chevy Chase, Maryland. Previously, he served as assistant town administrator for Capitol Heights, Maryland. During that time, he served a period as acting town administrator. He ran the day-to-day operations of the town's municipal government, supervised the department heads and all staff, drafted legislation that went before the Town Council, and secured hundreds of thousands of dollars in grant funding for the town's infrastructure projects. "I think it was that experience in public service that really gave me the opportunity to utilize all of the tools that I acquired from AU and my professional degrees," says Chris. 
"AU ingrained in me a desire to pursue a career in public service by providing me the opportunity to pursue substantive work experience in government while I was a student. That experience was pivotal in shaping my career interests and the work that I am currently doing in local government," Chris shares. Now he is an Alumni Admissions Volunteer, a member of the Black Alumni Alliance, and a member of the American University Alumni Board.
When asked how he manages to balance everything on his plate, Chris reflects on what he tells both himself and students he meets: "To whom much is given, much is required. If you work hard, give back to your community, and try to be a resource to support and be helpful to other people, I believe you will find yourself in a great position."