Alumni Profile
CPAC Director Christopher Malagisi, SPA/BA '03, gives back to AU as adjunct professor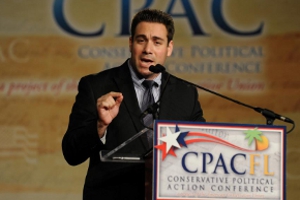 As director of the Conservative Political Action Conference (CPAC), the largest annual conference of conservatives in the country, Christopher Malagisi, SPA/BA '03, is able to bring his love of politics to the national arena.
"CPAC is the one place where conservative leaders can come together and discuss what it means to be a conservative, how to help America, and how to rally people to the cause. People come from every state and many different countries to participate," says Malagisi.
Malagisi's passion for politics goes back more than a decade to his time as an AU student. In addition to serving as class president for three years, Malagisi also was president of the SPA Class of 2003 as a senior. In the fall of his junior year, Malagisi secured an internship with the White House. His first day of interning was the Friday following September 11.
"I remember going in the Friday after 9/11, and I remember taking the Metro and when I got off there were six different security checks I had to stop at. Everyone was still running around trying to get back to normal," says Malagisi.
During his time at the White House, Malagisi worked in the Department of Legislative Affairs in the Office of the Vice President, where he assisted in drafting of USA PATRIOT Act and the Homeland Security Act.
"The focus of the office I was in was basically 'what do we need to do to protect ourselves?' The events of 9/11, being at AU, and working at the White House took my general interest in politics and made me fully understand the impact we can have not only here but around the world," says Malagisi.
Through all his experiences in D.C. and at American, Malagisi maintains that his best memories of his college years were the ones he gained from his late-night discussions with peers.
"I mostly remember staying up 'til the early hours of the morning debating the issues of the day. You learn so much from your classmates, your professors, and your accessibility to D.C.," says Malagisi.
Today, Malagisi continues his involvement in the AU community as an adjunct professor. He teaches "The History of the Modern Conservative Movement: 1945-Present" in the School of Public Affairs.
"One of the greatest honors is coming back and using my experience from AU and the professional world and being able to bring that back to my alma mater. To be on the other side of the classroom is quite an honor," says Malagisi.