Alumni Profile
Alumnus Clarence Fluker Shows Dedication to Public Service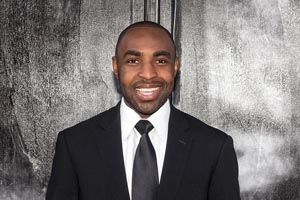 Clarence Fluker, SOC/MA '02, leads a life dedicated to public service. Clarence serves as the communications and special initiatives director for Serve DC in the mayor's office on volunteerism. In his role, he spends a lot of time out in the community, training volunteers and providing service-minded individuals with the tools and resources necessary to meet community needs. Clarence says the best part of his work is the feeling of satisfaction he gets at the end of each day, knowing that he is doing good work. "It's not about how I make a living, it's about how I live," says Clarence.
As a student at AU, Clarence was extremely busy. He was a full-time student in the public communication master's program, as well as a teaching assistant for an undergraduate class. Clarence also served as a paid communications intern for Youth Pride Alliance. His passion for involvement has clearly translated to a life of public service and community involvement. He credits his experience in the Lobbying and Public Affairs Institute, now known as the Public Affairs and Advocacy Institute, for giving him the background in coalition building that he uses every day in his work.
Prior to his work with Serve DC, Clarence worked in the mayor's office of community affairs in GLBT Affairs as a program manager, and he remains active in Washington's GLBT community. In fact, Clarence was recently honored by the Gay and Lesbian Activists Alliance (GLAA) of Washington, D.C. with a Distinguished Service Award for his ongoing commitment to serving the GLBT population.
Clarence also devotes a great deal of time to volunteerism at AU. He currently serves as the signature programs co-chair of the American University Black Alumni Alliance. In this role, he has helped to broaden the group's reach and establish programming designed to engage alumni in the life of the university both on and off campus.
When asked what his next step would be, Clarence mentioned that he was inspired by an AU alumna who recently spoke to a group of students and alumni on campus. That alumna, Lori George Billingsley, SOC/MA '91, serves as vice president for community relations for Coca-Cola North America, and Clarence hopes to parlay his years of public and community service into a similar role in corporate community relations or community affairs somewhere.