Alumni Success Story
Former Teacher and Congresswoman Returns to the Classroom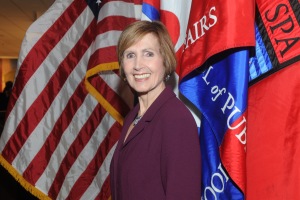 Connie Morella, CAS/MA '67, entered politics at the height of the Women's Movement in the early 1970s. A tireless advocate of equal rights for women, children, and families, she represented Maryland's 8th Congressional District in the U. S. House of Representatives from 1987 until 2003.
Currently Ambassador in Residence at AU's School of Public Affairs, Morella teaches a course on Women, Politics, and Public Policy, which features guest speakers who play key roles in Washington's political arena.
Morella moved to Bethesda, Md., in 1954, after marrying Anthony Morella (professor emeritus at the Washington College of Law). She taught English and civics in Montgomery County Public Schools, then came to AU to get her graduate degree in English and became a professor at Montgomery College in Rockville, Md.
But Morella found herself caught up in the equal rights struggles happening in her back yard. "I came from the North and had no idea about the difficulties in a rural community," she says.
"The Women's Movement put the movement into me," she says of her political awakening.
In 1971, Morella became a founding member of the Montgomery County Commission for Women, where she worked to end inequities in education, housing, employment, and access to credit.
Elected to the Maryland House of Delegates in 1978, she was elected to the U.S. House of Representatives less than a decade later. During her 16 years in Congress, she was a leader in promoting economic growth through science and technology, and free trade.
"I went from Parris Glendenning (then Governor of Maryland) to Paris, France" says Morella, describing her 2003-2007 appointment as Ambassador to the Organization for Economic Cooperation and Development (OECD), where she oversaw the work of five American government agencies.
In spite of her many professional accomplishments, which include 12 honorary degrees and numerous awards, Morella says her greatest achievement is raising nine children, six of whom the Morellas took in when her sister passed away in 1976. Two of them are also AU alumni, and another currently teaches at the law school.