Alumni Success Story
"It's My Time to Give Back"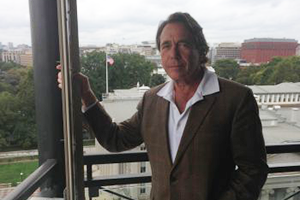 Student, alumnus, parent, educator, volunteer, donor. These words describe Alumni Board member George "Cookie" Reed-Dellinger, Kogod/BSBA '69, Kogod/MBA '71, and his many connections to American University. Cookie, a native Washingtonian, came to AU as a transfer student. He proudly states, "I knew it was going to be the best four years of my life… and it was."

Much of his experience at AU was shaped by the men's soccer team. He feels joining the team was one of the best decisions he made, and describes it as the "highlight of my time" at AU. He was a committed student-athlete who eventually became team captain. He was also an active member of Zeta Beta Tau while at AU. Beyond his involvement as a student, he attributes much of his career success to the education he received at AU. He says that his degrees from AU helped him to compete at a high level for 46 years on Wall Street with the best and brightest.

For a time, Cookie taught as an adjunct professor in the Kogod School of Business. Through his courses, he instilled in his students the value of education. In investment exercises, he imparted that stocks fluctuate and antiques break, but your education never goes away. By the end of the semester, Cookie says he was able to prove to his students that tuition was the best investment they could make. He enjoyed teaching AU students and hopes to return to AU as an instructor in the future. "I have 11 lectures on my smartphone ready to go," he says.

Cookie continues to promote the value of education, especially at AU, through his service on the Alumni Board and Athletic Department Leadership Council, and by working with students, specifically student-athletes. One of Cookie's missions is to help the student and alumni communities recognize that "a degree from American means something. It's about what you make of your degree." And he has experience to prove it.

It is evident that Cookie is proud of the institution at which he spent 17 years as an undergraduate student-athlete, graduate student, and adjunct professor. "It's my time to give back," he says. He is honored to be a member of the Alumni Board, through which he devotes time, talent, and treasure to help the student and alumni communities. Cookie explains that in giving back, everyone has their niche. His is helping student-athletes get jobs after graduation, and he has been successfully doing this for several years.