Alumni
EMAA Alumni Spotlight: Danielle Gelber, SIS/MA '83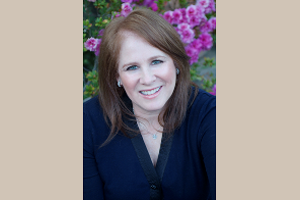 Emmy-nominated television executive Danielle Gelber, SIS/MA '83, maintains strong ties with AU as a School of Communication mentor and host committee member/speaker for the AU Entertainment and Media Alumni Alliance. We caught up with Danielle during her busy production season with Chicago Fire to find out the roots of her connections to AU and learn more about her personal success.

AU: What about American University was attractive to you before you became a student?  

Danielle: Before I became a student at AU, I simply knew that I wanted to go East, and specifically wanted to end up in D.C. I have always been fascinated by the thought that it's a city with a very singular perspective and make-up, because so much of what's local is national. You can only find that paradox in one place in this country, and I really wanted to be in our capitol. I loved what SIS and the School of Communication stood for. I was very taken with the sensation of Camelot that I conjured when I toured the campus – that you can achieve anything if you put your mind to it -- and have always thought it very special that President Kennedy gave the Commencement speech to AU's graduating class of 1963 while in office, just a scant few months before we lost him.

AU: Do you still connect with any AU classmates?

Danielle: My two friends and housemates, Kevin Pozzi, SIS/MA '80, and Steve Mertens, MPA/SPA '79, (shout out Kevin and Steve!) had actually graduated from their own AU grad programs by the time we all rented a house together on good old Reno Rd. They're the friends I think of the most when I remember my time at AU.

AU: Can you share a few of your biggest achievements since graduating from American University?

Danielle: I'm very proud of having developed The X Files. It was a seminal show in the early history of FOX and helped really cement the network in the industry as a place to bring ideas that could insinuate themselves into the pop culture in a lasting way.  

I feel that developing Weeds for Showtime had a similar effect; the network had just decided to dip its big toe into Original series programming and Weeds shouted, 'Come to Showtime for distinctive and unique programs that you can't get anywhere else.'

Chicago Fire has been a big personal victory. It was the first show I developed after joining forces with Dick Wolf. My intent was to finally create a show myself, rather than buy one from someone else. Chicago Fire has helped build on the Wolf brand, and give me a proprietary feeling about having my own show on the air. Having creative and some financial ownership of a show, has been something I've worked towards my entire career.

AU: How about a message to the aspiring young alumni...what words of wisdom can you impart to recent graduates who seek to walk in your professional footsteps?

Danielle: Slow and steady wins the race. It's a gigantic cliché because...it's true! Careers take time. They take sticking with something through difficult times when you think you're spinning your wheels. They take commitment and patience and focus. In this day and age of Instantaneous Everything, you need to realize that a career takes shape over a long period of time. So choose work that has lots of built-in directions and room to grow as you matriculate. Don't work to achieve high success at a place that will top out quickly. Instead take the slower, longer but ultimately far more satisfying and fulfilling road that goes much further than you ever imagined.

AU: Why do you remain engaged with American University?

Danielle: I was always taught by my parents to reach back and pull others along with you as you earn your own achievements. It's very rewarding to have mentored a number of worthy AU students, had a hand in giving them their first industry jobs, and watch them fly. Plus, I love the idea of visiting D.C. with my family, and showing our daughter firsthand what it's like to get an education in the nation's capital.