Alumni Success Story
AU Alumni, Best Friends, Co-authors, and Business Partners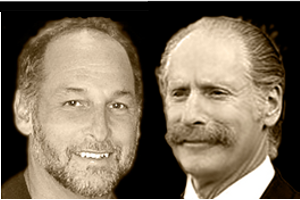 "Writing a book is hard. Co-writing a book is nearly impossible. Co-writing a book with your best friend and business partner is unimaginable." So says Doug Katz, CAS/BA '73, CAS/MA '76. But together, he and Craig Wasserman, CAS/BA '73, CAS/PhD '75, did just that.

The two classmates, business partners, and best friends recently co-authored The Invisible Spotlight: Why Managers Can't Hide. The book is a commentary on the manager-employee relationship and is rife with anecdotes and insights the two have acquired during their four decades as management consultants.

Katz says he and Wasserman met when they were both in graduate programs at the College of Arts and Sciences; Katz was earning his master's in clinical psychology while Wasserman was in the counseling PhD program. What began as a friendly rivalry among two competitive psychology students developed into a lifelong friendship and business partnership.

Katz expounds on his time at AU, saying, "My experience at American University was a cliché; it was exactly what an education is supposed to be. It taught me to value scholarship and a thoughtful articulation of ideas. It taught me how to observe the world and think about it, as well as how to enjoy it. … My life would be entirely different without AU."

Upon graduation, the two AU alumni founded Wasserman Katz, a successful management consulting firm. They help businesses, non-profits, and governments solve management and organizational problems.

The Invisible Spotlight contends that managers are under the constant scrutiny of their employees and have a significant influence over their employees' lives. Katz says they wanted to write a management book unlike others on the market, which, he believes, over-simplify the practice of management to a set of skills or a formula.

As Katz explains, "This book reflects the way we think and also what we've observed. It's not filled with esoteric concepts, how-to instructions, or a litany of leadership quotes from gurus and celebrities. We wanted to acknowledge that managing is less mechanical and more nuanced than what many of the books suggest. So rather than a recipe, we wrote stories from the trenches.

"From childhood, the most profound and enduring lessons we learn are from stories, not bullet lists. We thought that examples from real life would resonate with our readers."

When asked what's next for the pair, Katz says he would, of course, like to see the book become a smashing success, but he believes that writing the book was an accomplishment in and of itself.