Alumni Success Story
AU Grad Finishes Bar Exam While in Labor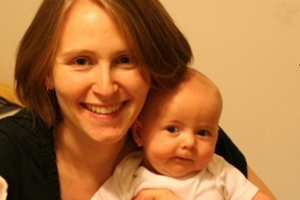 Elana Nightingale Dawson, SPA/BA '03, made headlines this summer as the woman who went into labor while taking the Illinois Bar Exam and delivered a beautiful baby boy just two hours after finishing the exam.  Long before her story caught the eye of the media, she was making her mark here at American University.

A native of White Plains, N.Y., Nightingale Dawson decided to come to AU primarily because of its location in Washington, D.C.  She liked that AU offered what she calls, "the best of both worlds," with wonderful programs in law and politics that use the nation's capital as a classroom and a charming campus environment.  

While she was a student at AU, Nightingale Dawson came to more fully appreciate all that AU had to offer.  She was heavily involved in the theatre department and was a photo editor for The Eagle.  Upon graduation, Nightingale Dawson pursued a professional career in theatre.  She credits AU professors Gail Mardirosian and Caleen Jennings with instilling in her a love of theatre and helping to form her career in the field.  

During her time at AU, she also took advantage of the Consortium of Universities of the Washington Metropolitan Area, of which AU is a member, and took classes at Gallaudet University.  It was through these classes that she became involved in the deaf community, and her involvement has continued through her law school career.

This summer, while studying for the bar exam, Nightingale Dawson worked at a disability rights organization, putting her knowledge to work to help a population about which she is extremely passionate.
Nightingale Dawson credits her participation in an American University Women and Politics Institute program led by Professor Karen O'Connor with helping to push her toward a career in law, but says she didn't make the official decision to head to law school until several years after graduation.

Nightingale Dawson's decision to attend law school at Northwestern in Chicago was driven by many factors, including proximity to family and the availability of an accelerated program.  She completed the same number of credit hours as traditional three-year JD students in five semesters over two years.  Nightingale Dawson is currently clerking for a federal district court in the Northern District of Illinois.  Next year, she will serve as a clerk for a judge on the Sixth U.S. Circuit Court of Appeals, and when that is complete, she will join the Chicago-based law firm, Kirkland & Ellis.  She hopes to pursue a career in litigation.

In early October, Nightingale Dawson learned that she passed the Illinois Bar, despite going into labor during the exam.  She is thankful for the opportunity to focus on her family and work, rather than having to study for the exam again!