Alumni Profile
SIS Alumnus' Non-Traditional Path to Making Big Change on His Home Continent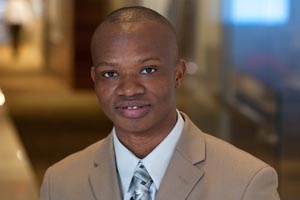 Hamissou Samari, SIS/BA '09, took a non-traditional route to American University. He came to AU as a transfer student after receiving his associate's degree from Borough of Manhattan Community College of the City University of New York.

"I only spent two years on campus; nevertheless, during those two years, I did more than many would do in four years," Hamissou says. As an honors student, he participated in the leadership of the Multicultural Honors Initiative. Samari also played a large role in founding the Transfer Student Association thanks to the support of Nadine Marks and Brett Berkowitz of the admissions office.
 
While at AU, Hamissou also interned with the White House Commission on Remembrance as well as traveled to Cape Town, South Africa alongside Dr. David Hirschmann. "This was not only my first trip to South Africa, but also my first trip to Africa after leaving Togo in 2003," Hamissou says. "This trip was an eye-opening opportunity, as it gave a chance to see firsthand numerous dichotomies across the region."

Hamissou is a senior monitoring and evaluation specialist for Africare, an international non-profit organization that is headquartered in D.C. As a graduate student at Harvard's Kennedy School of Government, Hamissou heard Dr. Darius Mans, president of Africare, speak. "His insights on the potentials on the African continent and the works that Africare has undertaken to accompany Africa on this promising journey reignited my interest in being part of it."

"There is nothing more rewarding than knowing that through my tiny contribution, a once-hopeless mother has managed to care for her children, or that an orphan and vulnerable child in an HIV and AIDS-torn village would stop being a social outcast and become an asset to the community as a result of schooling."

"AU has been one of the most rewarding steps for both my academic and professional life," he says. "From NYC Mayor's Office's Civic Corps program to my acceptance to the Harvard Kennedy School to my current position with Africare, I could not thank AU and SIS enough for having helped me build such a strong academic and professional foundation."

Hamissou was born and raised in Togo. His short-term goal is to keep improving and perfecting himself in everything he does.