Alumni Success Story
Downward Economy Opens Doors for Three Entrepreneurial Alums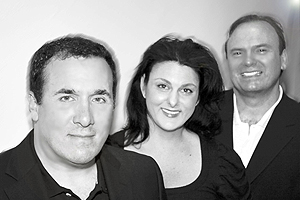 Innovative and successful people are often drawn to one another.  Such is the case with Michael Heitner, KSB/BS '81, John Kocay, SIS//BA '79; KSB/MS '84, and Hilarie Viener, SOC/BA '92, founders and chief executives of RECHARGEnyc.  
The successful entrepreneurs have more in common than their alma matter; they possess the expertise and creative insight required to recognize a business opportunity in an uncertain economy.
Heitner, Kocay, and Viener pooled their resources and diverse experiences to launch RECHARGEnyc. The New York City-based company is a market consultancy group that aims to "refocus, revitalize, and reposition" businesses to make them better equipped to succeed in an evolving economy. The inspiration behind the group grew from an awareness that companies that have been historically successful must develop new approaches to continue flourishing in the future.
The mission of RECHARGEnyc is simple: to help businesses operate at full potential "by facing these new challenges with clarity, sound initiatives, and a determination to win in these unprecedented times." The group focuses on multiple functions of the business, including internal structure, communication, branding, and marketing.
The alumni founders are innately aware of AU graduates' mettle. They have the "passionate mindset that entrepreneurs have," most notably self-assuredness, intellect, and the originality required to succeed in an increasingly competitive world, notes Viener.
As developments in how companies operate create shifts within the job market, the team shares some words of advice for recent graduates.  Despite the distress in the current economy, "this is one of the best times for entrepreneurs, because the market is open for new ideas," says Viener.
Adds Kocay, this is a perfect opportunity for individuals to brand themselves, as companies are looking for employee engagement "where the entrepreneurial spirit can be injected into the organization."
Viener encourages recent graduates to remain positive, "If you're just starting out and you don't have a job, there's nothing to lose," she says, adding, "I've never looked at my career path as a job. I look at it as what I like to do."
As RECHARGEnyc grows, its founders plan to maintain a strong relationship with AU, from recruiting AU graduates to join their team, to commiting to donate 5 percent of any  profits garnered from clients they receive through the AU community back to the university.