Alumni Success Story
Taking the World by Storm: Two AU Alumnae Inspired to Travel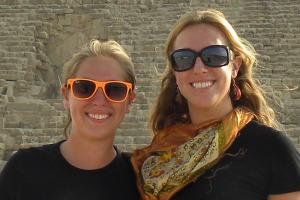 Imagine spending Christmas in Hamburg, Germany; New Year's in Galway, Ireland; and your birthday on a train from Vienna, Austria, to Rome, Italy, all in the same year. This dream trip is two AU alumnae's reality as they travel around the world for what they're calling their "American Gap Year."
The two 2006 AU grads are former roommates Laura Hockensmith, KSB/BSBA, and Stephanie Vavonese, SPA/BA.
Hockensmith had been working for Houlihan Lokey since the summer after her AU graduation, first as a financial analyst and then as an associate. Vavonese had been working for Accountants International since the fall after her AU graduation, first as an associate staffing consultant and then as a staffing consultant. They had both heard about Europeans and other young adults from other countries who had taken "gap years," but knew few Americans who had followed suit.
"We were both at the points in our lives and careers where we knew we needed a change," Hockensmith remarks. "We decided that it was 'now or never' to take this trip because of limited commitments at the time."
As Hockensmith notes on their travel blog, "It's a lot to give up (job, apartment, settled lifestyle, seeing family and friends regularly), but there is definitely so much to gain. This trip will allow me to visit new countries, experience cultures so different from my own, meet people that I would never meet elsewhere and also take some time for myself and develop new perspectives on who I am and what I want to do."
The two have traveled to a long list of places in North, Central, and South America, Europe, and the Middle East already, as they're over halfway through their year. Following stops in Mauritius and South Africa, they will next travel to several destinations in Asia before returning home in July 2011.
If you're thinking that their trip has been all play and no work, think again. "On the road, every moment is a time to do something new, meet new people, etc.," Hockensmith notes. "So far during our travels, we've met so many amazing people, some of whom we've met with again around the world after the initial meeting – inspiring us to change our initial itinerary."
Hockensmith and Vavonese had several experiences traveling prior to this year-round trip, including several family vacations (both domestic and international), study abroad in France and New Zealand (respectively) while students at AU, and other travels together in the years since they met as students at AU.
Hockensmith and Vavonese met through the AU club crew team during their freshman year at AU and have remained close friends ever since. They remained active with AU, often attending events in the D.C. area. Hockensmith also served on the Young Alumni Chapter Board before beginning her travels and even though she is halfway around the world, has agreed to help serve on her five-year reunion planning committee for the Class of 2006 to be held in Washington, D.C. this October.
If you're interested in getting involved with your class reunion, please e-mail reunion@american.edu with your name, grad information, and how you'd like to get involved.