Alumni Success Story
Grad Utilizes Alumni Network to keep AU, D.C. roots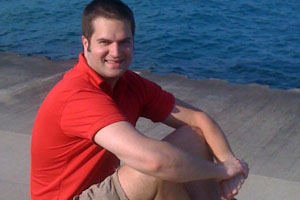 After graduating from American, Jeff Orschel, SIS/BA '02, kept up his AU roots by attending an alumni event in Chicago. It was there that he connected with a fellow alum and hiring manager of Levick Communications, Lori Greenspoon Anger, SIS/BA '00. One week later, Levick flew Orschel to D.C. for his first job. 
Years later, Orschel continues to capitalize on the benefits of the AU alumni network, now serving as a chapter leader for the Chicago Alumni Chapter. After moving back to the Midwest in 2008, Orschel became reacquainted with the Chicago chapter through the chapter's then-president Allyson Berman, CAS/BA '99, a friend of Orschel's. 
Soon Orschel became a chapter leader, where he continues to organize an array of events from happy hours to philanthropic activities around the city to help fellow Eagles network with each other. According to Orschel, networking in Chicago is much different than in D.C. because there are such a wide variety of careers. 
"In Washington, everyone asks you what you do, but in Chicago people don't always say that," says Orschel, "Chicago is different because it's not just government-centric." Orschel believes that the Chicago alumni chapter can help fill the networking gap by connecting fellow alumni from all the diverse career fields of Chicago. 
According to Orschel, chapters such as Chicago's allow alumni to hold onto their D.C. experience and keep close connection to the school, despite moving away from the District. Common memories and ties to AU and the D.C. community, such as favorite professors and adventures abroad, give alumni a foundation for friendship.
"My favorite part is being able to continue to connect with people that have a lot of the same interests and background as I do."
Whether it's talking about where they lived on campus or what their first internships were, being able to connect on that level is very "exciting," says Orschel.
From the Eagles basketball team making it to the Patriot League Championship during his senior year to studying abroad in Brussels, Orschel says that his time at AU molded his personal and career goals. Continuing his love of international relations, he currently works in public relations for one of the largest international law firms, gaining media publicity for their many specialties, which include global trade. He also remains a diehard fan of college basketball, especially, of course, the Eagles.

"My experience at AU has really shaped who I am today, whether it's in my job or in my personal interests, such as travel, to being open and aware of other cultures and having friends from different places," says Orschel.

Orschel represents the vast opportunities and the hard work of everyone involved in the AU alumni network. From the basketball court to the boardroom, Orschel has made the most of his AU experience.

Want to get involved with your own local alumni chapter? Look for a list of chapters here.