Alumni Success Story
New '94 Alumni Board Member Lends PR Expertise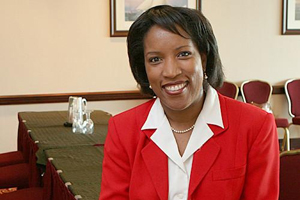 What gives Alumni Board member Jennifer Collins, SOC/BA '94, an adrenaline rush? Each successful event she manages as founder and president of The Event Planning Group (TEPG).
"As soon as I get done with one event, I'm asking, 'What's next?'" Collins likens the planning process to "putting a puzzle together." The best part of being an event planner: "Seeing the event take off and knowing you played a part in its success."
Because of her communications background, Collins believes an event should be about more than just logistics—it should also clearly communicate a client's brand and message.
As a student, Collins initially planned on a career in politics. But once exposed to other majors, she migrated to the communications program because it better suited her interest in public relations.
An internship at Pentagon City Mall helped her find her calling. She helped plan her first high-profile event, an audition for the TV show "Star Search" with Ed McMahon. "AU is great because they push students to gain practical experience through internships," she says.
Collins was also president of AU's Public Relations Student Society of America (PRSSA), where she led the planning for the Mid-Atlantic Regional Conference. She found that she loved planning events—even the stress that came along with it—and had the necessary knack for improvisation and adjusting quickly when a plan B, C, or even D was necessary.
A sense of humor is a must, she says. She wrote a book on the very topic titled The Lighter Side of Meeting Planning, in which she details everything from "funny mishaps" to "war stories." The most memorable was a miscommunication with a vendor during a four-day event with an elaborate stage. The vendor tore down and took away the stage prematurely. She then had to figure out a new stage set before the final closing ceremony. Thankfully, everything came to together at the last second.
"Let me qualify all this by saying that it's funny now, but it wasn't at the time," she laughs.
She's been collecting such stories since 1997, when she founded TEPG. "I always knew that I wanted to start my own business," she says. Even as an intern for public relations firm Hager Sharp, where she worked with PR trailblazer Susan Hager, the founder of Hager Sharp, and learned of Hager's involvement with the National Association of Women Business Owners (NAWBO). Hager was one of the organization's founders and the first national president. Today, Collins is past president and on the advisory panel for NAWBO's Greater DC Chapter, proving that "life comes full circle."
Similarly, Collins comes back to AU time and time again. She mentors students, speaks as a guest lecturer for Professor Rick Stack's public relations classes, and now serves as an Alumni Board member. "AU is a part of my foundation and who I am," says Collins, "I am thankful and consider it a privilege to give back to the university."
In May, Collins will bear the School of Communication's flag during commencement. "I'm honored to help usher in future leaders," she says.