Alumni Profile
Itzler disrupts workouts – and willpower – with help of gritty Navy Seal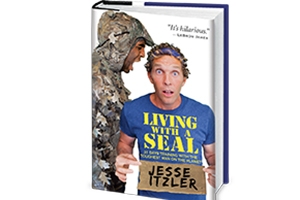 Jesse Itzler, SPA/BA '90, has always been a risk taker. During his senior year at American, he persuaded his Pop Culture and Society professor to allow him to skip multiple classes so he could record a demo in Queens, NY. Since the only studio time he could get was on Monday (the same day as his class), he negotiated a deal with his professor for a "customized curriculum";the result, a recording contract two months after graduation. When Jesse has made bold moves, they have usually paid off. 
The consummate entrepreneur, Jesse is responsible for multiple powerhouse businesses in different fields. He co-founded and sold Marquis Jet to Berkshire Hathaway/NetJets in 2009, Zico Coconut Water to Coca-Cola in 2012 and recently became an owner of the Atlanta Hawks. Throughout his journey he has had ups and downs as a rapper, investo, and entrepreneur and credits habits built at AU as integral to his many successes. "Before I left for American University, my mother told me to sign up for everything I could. To take advantage of everything from on-campus lectures, to sports and social events, to the amazing DC culture", he says. 
But even the most creative minds naturally settle into routines and while routines can be good, they can also lead to a rut. When Jesse felt his life drifting in that direction, he called in some serious backup to mix up his routine. Enter David Goggins-retired Navy Seal who is widely regarded as the "Toughest man on the planet". Jesse saw David at a 100 mile race and was so inspired by his determination and focus that he invited him to move in with his family for an entire month. "I figured if a little bit of his grit and determination could rub off on me, then I would be better off in many of the various buckets of my life", Itzler said.
Jesse wrote a book of their time together called Living With a SEAL and it has exploded up the charts. Part memoir and part non-traditional business guide, this hilarious book is both motivating and inspiring. Over the course of the month, Goggins applied his "If it doesn't suck, we don't do it" philosophy and challenged Jesse to tap into his "reserve tank," which Jesse says was much deeper than he knew. "We all have a reserve tank, but only by tapping into it can we truly get better", Itzler learned.
While the measures he took were extreme, his new book lays outs precisely how to leverage these kinds of extreme lessons in our everyday lives. On finishing a difficult task, he says, "When your brain tells you are done, you are only 40% done". On overcoming your discomfort and striving for selflessness, Jesse advises, "Everything ends, you just have to figure out a way to push to the finish line". And finally, on setting the stage for success, his philosophy is, "You have to learn to get comfortable being uncomfortable. You have to be willing to get out of your comfort zone and push your limits". 
Jesse traces his outside of the box thinking to the School of Public Affairs. It was there that he first spread his interdisciplinary wings while taking public speaking and advertising classes. Those classes were the building blocks for his presentation and communication skills and he still credits them 25 years later. Whether he's pitching an investor on a new idea or taking risks on new business ideas, Jesse is grateful for his experience at AU. 
With Forbes recently having named AU to its Top 25 list of Most Entrepreneurial Universities, we're proud to count Jesse and other Eagle innovators amongst our alumni family.