Alumni Success Story
Alumni Board Member Joe Vidulich is Always an Eagle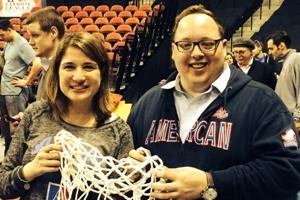 Few alumni embody the phrase "Once an Eagle, Always an Eagle" as well as Joe Vidulich, SPA/BA '08. A member of the American University Alumni Board and men's basketball season ticket holder, Joe continues to support AU as enthusiastically as when he was a student.

"I joined the alumni board because I want to make sure the AU alumni experience is just as good as – if not better than – the student experience, and show alumni that their time at AU doesn't end after four years," Joe says, and it's true: his Eagle pride is inescapable and infectious.

An AU men's basketball jersey bearing the signatures of the 2008 team (the first in AU history to qualify for the NCAA tournament) hangs on the wall of his home, and he is frequently at basketball games and alumni events. Joe even traveled to Boston and Milwaukee this year to watch the men's basketball team win the Patriot League Championship and play in the NCAA tournament, respectively.

"During the Patriot League Championship game, [Boston University's Agganis Arena] arena became Bender Arena North," Joe recalls. "You could hear the cheers of the AU students and alumni throughout the building and on television. It just shows that AU alumni are everywhere, and AU pride far exceeds the boundaries of Washington, D.C. … The fact that this small team of stellar student-athletes achieved an objective no one thought they could speaks to the caliber of the team, Coach Mike Brennan, and Athletics Director Billy Walker. I'm so proud of them, and I look forward to next season."

As a high school student in Long Island, Joe knew he wanted to study politics and policy. He looked at a number of D.C. schools, but decided to apply early decision to AU because, he says, "I fell in love with the campus and the spirit of the community. I saw that AU really believed that given the tools and the knowledge, you can change the world."

As soon as he arrived on campus, Joe began to change the world – or at least AU. As a freshman, he ran for student government and later became student body president. He also joined College Republicans, the Residence Hall Association, ATV, was a resident assistant, and even participated in a production of the Rocky Horror Picture Show. Joe also interned for Congressman Peter King (R-NY) and the McCain presidential campaign. "I wanted the whole AU experience," Joe says, "And I definitely achieved that."

Perhaps Joe's most lasting legacy to date is as a founder of Blue Crew, the student cheering section at athletics events. After noticing lackluster attendance at AU games, Joe wanted to bolster student support for AU athletes. "It touched me that these young men and women were out there – on a court or turf or field – every day with an AU emblem on their chests that represented me and everything that I stood for. … We [as AU students] might have disagreements on policy or philosophy, but there shouldn't be a disagreement about cheering on fellow students as they represent your university in competition," he says.

Joe regularly interacts with AU President Neil Kerwin, SPA/BA '71, in his duties as an alumni board member, and he recalls Dr. Kerwin's inauguration fondly. As student body president, he participated in the inauguration ceremony, presenting Dr. Kerwin with an AU jersey on behalf of the student body. "It was a really special time. His presidency brought about a rebirth in the AU alumni community, since he is the first AU president who is also an alumnus and he has implemented a strategic plan that incorporates alumni."

When he isn't cheering for the Eagles or networking with fellow alumni, Joe represents the interests of over 650 businesses and half a million employees as vice president of government relations for the Fairfax County Chamber of Commerce, one of largest chambers in Virginia.

"One of the passions I got out of AU is that a strong economy is central to a strong region. … Every day, I use the skills taught to me by some of the best professors and experts in their fields to advocate and shape policy to make a better Virginia for my companies and the people who work for those companies," Joe says.