Alumni Profile
Capitol Hill Gains Another AU Eagle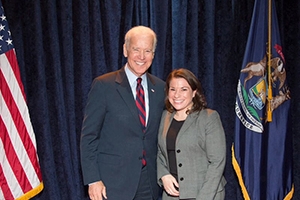 Karen Defilippi, SIS/BA '05, says her mother taught her never to be afraid, to be tough. Both are essential characteristics in the sometimes unforgiving world of politics. A veteran of many hard-fought political campaigns, Defilippi knows this first hand. She feels that women in politics are often too afraid to take chances, and she'll have to channel her mother's advice as she takes on her latest challenge. As the 114th Congress convened this month, Karen Defilippi began service as Chief of Staff for first-term Congresswoman Deborah Dingell (D-MI).  
In her new role, Defilippi is tasked with overseeing Dingell's congressional office—ensuring that everyone on the staff has the resources they need, and that the congresswomen has everything she needs to move forward on initiatives. It is a role for which Karen Defilippi has been preparing since she first decided to attend American University.
"Working in Washington is a big part of why I chose AU," says Defilippi. "AU is somewhat of a microcosm of Washington. Getting involved, networking, focusing on internships. That drive and hustle that is built into the culture really helps."
During her time as a student, Defilippi took full advantage of all that the university and the nation's capital had to offer. During her senior year, she obtained a work study job at the Women & Politics Institute. As a graduate student, she was hired to the program's full-time staff.  
During her stint with WPI, Defilippi attended a training session about working on campaigns. A conversation with the session's speaker led her to volunteer with then-Senator Hilary Clinton's 2008 presidential campaign. Defilippi was eventually offered the chance to move to Iowa to head Clinton's campaign in the state.  
After the senator's presidential bid ended, Defillipi went to work for a direct mail company that focused on campaigns. However, she says she loved being in the trenches. That love led her back to the campaign trail. In 2013, Defilippi was dispatched to Michigan to work on a congressional race. It was there that she met Dingell. 
It is easy to hear in Karen Defilippi's voice that she has found her passion. Even after several hard-fought political battles, the thrill of the political chase still excites.
"There is never a day without surprises," Defilippi says when asked what she loves most about her job. "It never gets boring. I love being the person that helps to bring it all together."