Alumni Success Story
National Zookeeper Got Start with Volunteer Opportunity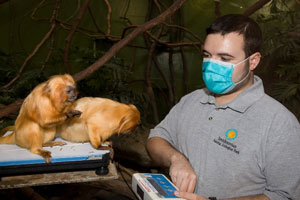 When he came to AU, Kenton Kerns, CAS/BS '07, knew he wanted to work with animals in some capacity but he wasn't sure which way to go.
Kerns had already taken all the science classes he could, so when he saw a posting for a volunteer zookeeper position at the Smithsonian's National Zoo during his senior year, he jumped at the opportunity and started working twice a week at the zoo. "Volunteering was a great start," he says.
When his last semester came around, he turned his position into an internship that included helping with the golden lion tamarin behavior watch program that summer. "I realized it was what I wanted to do and I started as a full-time zookeeper in October 2007."
As a full-time zookeeper, Kerns and a colleague are responsible for about 30 animals in the small mammal house, caring for them twice a day, every day.
"There is a lot of extra stuff that is added into a zookeeper's job," he says. "We do training with the animals to make their lives less stressful and enrichment to keep them entertained during the days."
However, Kerns also says that those are some of the most challenging aspects of the job.
"It's challenging making sure you're juggling all aspects of the job," he says. "You're working with a diverse group of animals and making sure everyone is OK all of the time…You have to know everything about them."
In addition to being a zookeeper, Kerns is an officer for the American Association of Zoo Keepers (AAZK) and has been working diligently to help increase the knowledge of guests on what zookeepers do – and educate fellow zookeepers.
"We've developed a professional development course where National Zoo staff will be teaching zookeepers more in-depth things we can do," he says. Part of this includes direct outreach, including promoting National Zoo Keeper Week. For Kerns, this entailed an interview with KidsPost from the Washington Post.
"It came about randomly," he says. "During the week we try to put out a lot of press on zookeepers and the job. KidsPost called and…we did the interview and it was very quick and easy and a lot of fun."
"It was amazing to see myself in the Post," he adds.
For now, Kerns is quite content working with the small mammals. But when a new opportunity comes along, "I'll be ready," he says.