Alumni Profile
SIS Graduate Named President and CEO of Feed the Children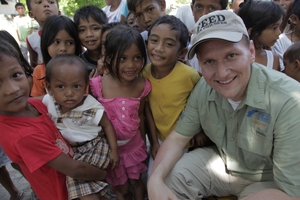 "Like all new graduate students, I wanted to change the world," says Kevin Hagan, SIS/MA '97, recalling his decision to attend AU's School of International Service. Kevin, recently appointed president and CEO of Oklahoma City-based Feed The Children, is by all rights doing just that. As head of one of the largest charities in the world, he oversees operations delivering more than 100 million pounds of food to families in need every year.
"Our mission is to provide hope and resources for those without life essentials," says Kevin. He points out that many people think of Feed The Children as purely an international organization, but, in fact, 80 percent of its operations are domestic. Key initiatives include food and personal care provision, backpack programs for homeless children, and disaster relief aid. 
Feed The Children provides more than just food to children. Through its ten international offices, FTC runs educational programs, water and sanitation services, medical operations (including significant efforts to de-worm children in the developing world), and operates several abandoned baby centers. Kevin says his vision for the organization includes expanding its existing programs, firmly establishing it as a thought leader, and refreshing the brand for one of the world's most well-known organizations. 
Kevin, who also has worked in government and the private sector, says he has come to realize just how many opportunities there are in non-profits and NGOs. He says, "There's a lot of opportunity for talented people to do good. The not-for-profit world needs great leaders just as much as the rest of society." 
As for his time at AU, Kevin says, "AU provided a really good understanding of international affairs and development theory. The colleagues I had were absolutely phenomenal, and AU did an exceptional job of showing us the interconnectedness of humanity and the need for really well-educated practitioners in international affairs." Kevin still keeps in touch with many of his classmates and says, "There are a lot of those people I've already called on who said, 'I'll help you.' My relationships [from AU] will definitely be helpful in my role here at Feed The Children." 
Though he has only been on the job for six or so weeks, Kevin already has been significantly impacted by the organization's work. He described opening his e-mail one morning to find a photo of twin girls who were only weeks old and had been left on the doorstep of Feed The Children's Abandoned Baby Center in Kenya. "They were having trouble breathing. We got them simple adenoid surgery and now they're doing well," he says. "Things like that give you an interesting perspective. I'm not just here to go to meetings every day. Those meetings have a higher purpose. You say to yourself, 'This is not just something to do. It's something you've gotta do well.'"