Alumni Success Story
Getting Out and Giving Back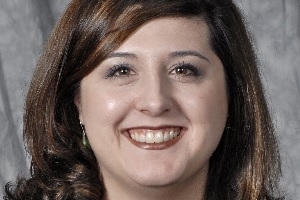 Kristen Eastlick, CAS/BA '95, SPA/MA '96, is a highly successful and motivated alumna who currently serves as the Chief Administrative Officer of Berman and Company, a public affairs advocacy firm. She manages one of the firm's largest trade association accounts, and for the past 10 years has been responsible for recruitment and staffing. She also serves as the management director for two professional development groups.
In her time as a student, Kristen gleaned countless examples of experiences that helped shape her for the professional world. As a literature major, Kristen enjoyed reading some of the greatest works of literature. Reading helped her hone her writing skills, and learn to use text based evidence to make arguments. "Given how much writing I've had to do in my career, both of those specific skills have been put to great use" she says.  
Kristen affectionately claims "AU is like a vocational education school for civil servants and policy wonks. I think AU students are prepared on day one because of the hands-on education, the focus on internships, the lecturers or speakers who come directly from their offices to share what the 'real world' is like in their chosen fields, and the many ways the university takes advantage of all the resources Washington, DC has to offer."
A few years after graduation, Kristen gradually began seeing more and more references to AU in her daily life. She saw advertisements at Nationals Stadium, as well as professors quoted in the news, featured as panelists, or referenced in research publications. "With each reference," she says, "I was reminded of how much I valued my time at AU, and I soon realized I should step up and do my part to promote the University and the great work I see." Kristen now serves as a member of the Alumni Board, and has been active in the Honors Alumni Network.
When asked what advice she would give to students and young alums, she said, "Your membership in AU's Alumni Association starts the second you step off the stage at graduation, and it's important to take advantage of that membership." She encourages students and alumni alike to leverage the networking opportunities AU offers and adds, "There's an AU graduate with the job title you want or working for an organization you love." She also says that being a part of the Alumni Association means giving back however you can. "That may mean financially, but it could also mean giving your time to volunteer with an office or organization on campus," she says.
"And one last thing: When you have your perfect job or are established in that career that's right for you, you may get calls from AU students looking for advice. Being a part of the Alumni Association means that you'll definitely call them back!"