Alumni Profile
From School to Career, Marketing Remains This Alumna's Passion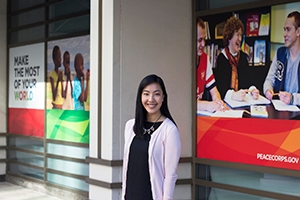 According to a report recently published by the Peace Corps, American University is the top medium-sized school (5,000 to 15,000 undergraduates) for Peace Corps volunteers, with 54 currently serving volunteers. As a graduate of AU and current marketing specialist for Peace Corps Response, Lesley Siu, SOC/BA '13, is excited to share this news. She says, "It's been great having that connection" between her alma mater and the Peace Corps organization. Lesley's favorite part about working with Peace Corps Response is "connecting experienced professionals with service opportunities" and the work the organization does internationally. 
Before she began working for the Peace Corps, Lesley's professional experiences after graduation were in social media and media relations. "I always knew I wanted to do marketing," Lesley recalls. So, she began looking for something that would provide her with the opportunity to be more of a leader in marketing campaigns, to help build a global brand. She found this opportunity at the Peace Corps headquarters in DC. 
Lesley says her academic experience at AU prepared her for the role of marketing specialist. She has been able to take what she learned in film and media arts and apply it to her current role in many ways. "I enjoy being the one who understands the process for production and film editing in order to create visually stimulating pieces that draw people in and get them excited about what I am marketing," she says. 
While at AU, Lesley was active outside of the classroom, getting involved in the business fraternity Alpha Kappa Psi, study abroad, and even leading the charge to create the online magazine, HerCampus, at AU. Lesley's involvement in this organization and publication allowed her to put her academic knowledge of marketing, communications, and media into practice while still pursuing her degree. What's more, she developed leadership skills as president of the organization, which she says carry over to her work as well as her role as vice president for the American University Alumni Association's DC Young Alumni Chapter.

Lesley is proud to be a graduate of American University because of the academic and cultural lessons she learned. She says, "AU students are internationally focused and curious about the world," just like Peace Corps volunteers.