Alumni Profile
Alumnus Mark Bergel Named CNN Hero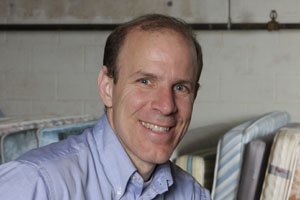 Mark Bergel, CAS/MS '87, CAS/PhD '96, recently named a CNN Hero, works 15 hours a day, seven days per week to end poverty. He is founder and executive director of A Wider Circle, a nonprofit organization which provides donated furniture and other goods, resources, and education to the people of the Washington region.
Founded in 2001, the concept of A Wider Circle began in an AU classroom. As a part-time faculty member, Mark says he was teaching a class called Health and Social Connections when the discussion turned to poverty. Calling poverty "the biggest health problem in our country," Bergel says he and his students decided to do engage together in volunteer work. Alongside those students, Bergel was introduced to the living rooms of people deep in poverty. "The apartments were so barren. They were missing all of life's essentials," he recalls. "To see four or five people living in an apartment and having no possessions…except for maybe a chair…That shook me out of the life I was living." 
Struck by the sharp differences in lifestyles in one of the nation's wealthiest regions, Bergel decided quite rightly that he could make a difference in those lives. Now, his organization serves more than 25,000 people annually, and, since its inception, has helped more than 125,000 Washington area residents furnish homes that might otherwise be empty.
In the 13 years since its founding, A Wider Circle has come to focus on the holistic needs of the people it serves. With educational programs focused on stress management, financial planning, and professional development, A Wider Circle seeks to help the region's poverty-stricken residents rise above the odds. "People who come to us are living in what equates to another world… I hope my work can bridge that world with the world that many of us are fortunate enough in which to live," Bergel says.
A Wider Circle often hosts AU students as volunteers and interns and has several alumni on both its staff and board of directors. "I really look at this work as an extension of my time at the university," Mark says. "AU is part of the DNA of A Wider Circle."
Bergel says he hopes that any recognition he receives - including the honor from CNN - brings more attention to the work to which he devotes his life. "It inspires me to work a lot harder, to create greater change. I hope it will inspire more people to get involved in the movement to end poverty," he says. 
As for what's next, Bergel says, "We haven't yet had the best part. The best part will be when we really end poverty. As a society, we only tend to do that which we believe we can do. We're doing this work for one reason, and that's to end poverty."

Learn more about Mark Bergel's work at awidercircle.org and cnn.com.