Alumni Success Story
Real-Life Experiences of AU Alumnus Hits the Big Screen in Blockbuster Hit Argo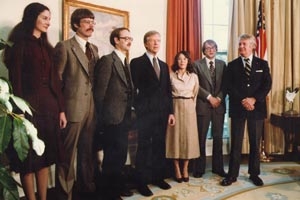 American University alumnus Mark Lijek, Kogod/MBA '76, has lived quite the adventure—one big enough to create Hollywood Oscar buzz. Lijek was one of six employees lucky enough to escape the protests and attacks on the U.S. Embassy in Iran more than 30 years ago. Their story is the premise of the blockbuster movie Argo.

Lijek arrived in Iran in July 1979 and was only there a few short months before he nearly missed becoming a hostage. With his wife, Cora, by his side along with five others, the group became known as the "houseguests" of the Canadian Embassy for about 10 weeks before leaving the country posing as a film crew and making it back to safely to the U.S.

It was not fear as much as boredom that got the best of Lijek. "Boredom was one of the hardest things to face," Lijek says. The group played scrabble, and he read many books, writing each title down as he completed it to help record the passing of time.

A recent story published on MyNorthWest.com chronicled details regarding the sequence of events leading to Lijek and the other officers escaping the embassy. Interviews with Lijek and other houseguests will be a special feature of the DVD release of Argo next year. However, as with any film, there is only so much time to share the story. "The movie is a slice of the real story which was why I wrote the book The Houseguests: A Memoir of Canadian Courage and CIA Sorcery," Lijek says.

Lijek completed a Master in Business Administration at AU, attending class part-time in the evenings while he served in the United States Army during the day. "As an administrative officer for the State Department, I used my graduate degree a fair amount. It prepared me quite a bit," he says.

Lijek moved to Washington, D.C. from Seattle to complete his undergraduate degree at Georgetown University. He retired from the Foreign Service to spend more time with his wife and children. He lives just outside of Seattle and keeps busy by promoting his new book and managing his website, marklijek.com.