Alumni Success Story
After a Winding Road, Matt Samuels Finds His Passion in Art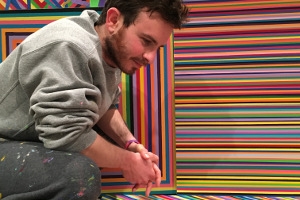 Some AU alumni graduate eagerly entering the field that they spent years studying for. Others, like alumnus Matt Samuels, CAS/BA '10, begin on one path and glide to others, creating opportunities to showcase their various talents along the way. Matt, a self-trained professional artist who premiered his debut solo show "Tiptoeing on the Edge of a Rainbow" this month, spoke with AU about his origins in network news and how American University provided him with the connections to embrace a new career path.
Matt Samuels came to American University in 2006, "dead set", in his words, on pursuing business like his father. Under the impression that his future was in finance, he enrolled in Kogod and began taking classes towards his degree. In 2008, however, that all changed. "I got swept up in the political race, the Barack Obama campaign in 2008, and started to think about venturing into media," he says. He soon switched his major to sociology and began internships at media institutions such as Meet the Press. "What's so great about AU is that it opened me up to this world I knew nothing about. AU encourages internships and putting yourself out there, so I was able to discover other passions."
His work led to him being a part of CBS Sunday Morning's Emmy Award-winning news team, where he was able to use the creative spirit he acquired through his media work to transition to yet another field. "I always had an interest in art, so one day I posted a piece I'd worked on on Instagram and it blew up," he says. Pretty soon, he linked up with a fellow AU graduate to provide his PR representation and embarked on what is now his first solo show. "My inspiration for the show comes from many different places, [but] from my first painting, color has been a constant theme and this show will highlight that," Matt says. He'll culminate his debut month at XY Atelier with a segment titled Artist Talk, moderated by 60 Minutes' Mike Kaplan.
So what advice does Matt have for AU Eagle alumni eager to spread their wings? "Keeping in touch with former classmates was an asset down the line. I know AU alumni who work for everyone from the Yankees to Goldman Sachs, and I was able to connect with my Artist Talk moderator through a former internship I had with 60 Minutes."