Alumni Profile
Alumnus Leads an ACYPL Delegation to Tunisia and Morocco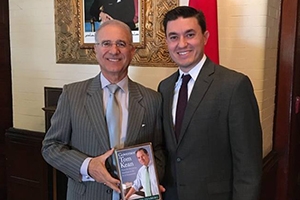 Michael Inganamort, SPA/BA '06, recently had the unique opportunity to lead a delegation of five political professionals, including fellow AU graduate Suzanne Swink, WCL/JD '15, on a 10-day tour of Tunisia and Morocco to better understand the roots of the Arab Spring and evaluate progress on security and human rights. The trip was sponsored by the US State Department and the nonprofit American Council of Young Political Leaders (ACYPL).

In Tunisia, the delegation met with the Minister of Tourism, former prime minister Mehdi Jomaa, members of Parliament from four political parties, and the American Chamber of Commerce in Tunisia to discuss opportunities for increased tourism and investment. In Morocco, the delegation was hosted by the OCP Policy Center to consider the Kingdom's balancing of security measures and freedom of expression. The agenda included a formal briefing with Youssef Amrani, the King's foreign policy advisor; a dialogue with the Muhammadan League of Scholars on countering the extremist narrative; and a visit to a community center that shields at-risk youth from terrorist recruiters.
"In both countries, we saw how American aid and investment influences policy and can contribute to stronger security. The stability of this part of the world relies on people of all religions and backgrounds, and is directly related to American interests around the world," Inganamort said.
 
This was the second exchange for Inganamort, who joined a bipartisan delegation to El Salvador and Guatemala in 2012 that studied the region's pandemic violence and drug trade. At American University, Inganamort studied political science and communications, legal institutions, economics, and government. As a delegation leader, Inganamort was responsible for ensuring the delegation's events and meetings proceeded without trouble. He was responsible for staying in touch with the on-site staff at ACYPL in Washington and serving as a liaison between the staff contacts and his fellow delegates.

While Inganamort's professional work is focused primarily on policy at the state level, he said the international experience gained from his two ACYPL delegations has been helpful. "To have a global perspective is useful. Seeing how other governments are run makes me a better practitioner of domestic political affairs," says Inganamort.