Alumni Success Story
Entreprenuer Receives First Rising
Star Award for Young Alumni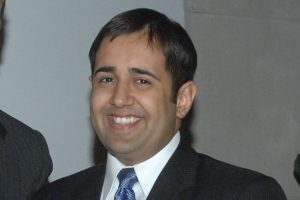 Neal Sharma, SPA/BA '98, began making a name for himself well before learning he was selected to receive AU's new Rising Star award in 2006. He came to AU on a presidential scholarship and quickly became involved in a breadth of activities on and off campus. He was an RA in Letts Hall for two years (which is how he met his wife, Angela (Lower) Sharma, CAS/BA '98, who was a resident assistant on the floor above his), and despite calling himself "a crappy student," he graduated cum laude.
"My grades didn't necessarily reflect how poor a student I was, but I really didn't attend as many classes as I should have, largely because I was so involved in extracurricular activities, student government, and working on a presidential campaign for Bob Dole," says Sharma. "I really did learn from the classroom that is D.C., and I saw action translated back into theory at AU and that was pretty great." 
As president of student government his senior year at AU (1997-98) Sharma had the privilege of introducing President Bill Clinton when he addressed campus that fall. "That was an interesting time for me, because I used to work for Senator Dole," says Sharma, who was the youngest salaried staff member of the Dole campaign at the time, having worked his way up from being an intern at Dole's political think tank, Better America.
Sharma cofounded the Digital Evolution Group in 1999. He is the big-picture guy, overseeing the strategy and direction of the full-service Internet firm that builds complex Web-based software – intranets, extranets, and e-commerce sites – for a variety of institutions including the Greater Kansas City Chamber of Commerce, the Kansas City Zoo, the Arts Council of Kansas City, and public companies such as Sprint, the Cerner Corporation, and Boston-based New Balance.
He serves on the steering committee for the major fundraiser of the University of Kansas Hospital, the board committee on marketing and fundraising for the Kansas City Chapter of the American Red Cross, and as a member of the exclusive Helzberg Entrepreneurial Mentoring Program. Additionally, Digital Evolution Group is a significant sponsor of organizations focused on cancer research and recovery, hunger-related issues, and character and childhood education.