Alumni Profile
Election 2012 Brings New Role for News Anchor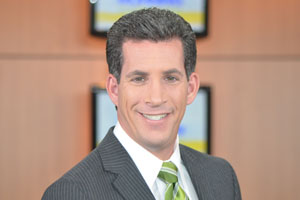 Each day is an "evolving storyline," says Ben Becker, SOC/BA '92. As news anchor at WPEC CBS 12 in West Palm Beach, Florida, Becker begins 2012 with a new role: political reporter. A seasoned journalist who has worked as an anchor, reporter, producer, and sports director during every shift imaginable, Becker's experiences have prepared him well. Serving as a broadcast journalist is exciting and dynamic since no two days are the same, he says, but it is also a craft that he has honed.

Becker made the jump from Metro Washington to Oregon for his first on-air position and also worked at ESPN's headquarters in Connecticut. Following an earlier posting at WPTV NBC 5 from 2001 to 2005, Becker returned to West Palm Beach, and WPEC has been his professional home for the past three years. It's made for a "nomadic career experience," Becker says. But this news professional looks for the story in people's faces wherever adventures take him.

Becker observes many changes in the news industry but "the journalistic mission [must be] accomplished within the framework of [today's] economic model." Like many, the news business is doing more with less. Fewer are employed in the field because of technological upgrades and economic changes. Becker says professionals must meet the demands of a new climate while maintaining a responsibility to be "fair, direct, and honest." He adds that with more news sources, there are more "checks and balances;" as a result there is no room for error.

He and colleagues responded to the new environment by being flexible self-starters and by demonstrating a willingness to work evenings and weekends while also preparing stories and running technology in the studio. Successful news professionals are "nimble, smart, and efficient," says Becker. While viewers may not see the preparation that precedes a successful news piece, it is essential.

Fascinated by the news from a young age, Becker came to the School of Communication as a transfer student and enjoyed a great experience. He relished the media outlets that Washington, D.C. offered and took advantage of internships as well as opportunities at American Television (ATV). From AU's student-run television station to early professional days at WUSA 9, Becker launched his career. He values the hands-on learning and the professional relationships AU fostered. Broadcast journalism is really a relationship-based business, he notes.

Today, broadcast journalists wear many hats, and when demands are placed upon them, they must possess the skills to problem solve and "figure it out on your own." Becker advises that to be successful, professionals must learn to perform on demand as well as "think ahead and be a step ahead." Sometimes news professionals must be a "one-man band," he adds. 

Like the news he covers, Becker's tale is a developing story. "It's a tough industry," he says, but it's also his creative outlet. Intrigued by the people he meets, Becker notes, "my art is telling a story on television." With important discussions ahead this year, Becker's ability to share information with his audience is critical. Armed with an upbeat attitude and a toolkit of experiences, Becker is ready to tell the story.