Alumni Profile
Jernigan's Past Pieces Paint Positive Future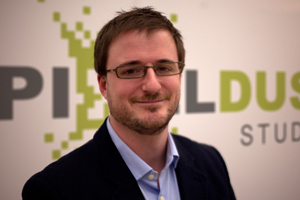 If you have Nick Jernigan, SOC/BA '04, sketch you a lion, the amateur doodler will probably deliver a solid two dimensional experience, complete with the animal posed in a ferocious leap with a full mane and sharpened fangs. But give Jernigan a keyboard and he can make the big cat as close to the real thing as technology will allow.

For Pixeldust Studios, a digital animation and broadcast design studio, Jernigan oversees five digital artists and producers in the company's Manhattan office. But if some worry that increased management responsibilities will stifle the artist's creative drive, Jernigan sees the opposite. "There are hundreds of ways to visually show something," says Jernigan. "It's always fun to learn how other artists work."

For Jernigan, his journey as an artist has been less about reacting to one life changing moment than continually fulfilling a natural creative impulse. The Maryland native was always shooting home movies and piggybacking on his father's photography interests. After shooting his first professional documentary through AU's "Discover the World of Communication" summer program, Jernigan was pretty sure that he wanted to make more films, and maybe even get some academic credit on the side.

While his father is a professor in AU's department of mathematics and statistics, Jernigan was drawn to AU for its communications offerings, including a renowned film studies concentration and industry-line equipment.

But as Jernigan began his studies, he realized that while he had a minor interest in film studies, his major passion was the visual media field as a whole. In realigning his degree track, Jernigan began work in a field that allowed him to essentially create the home videos of his youth from scratch. "In animation, you are messing with everything in there; the camera angle, the lighting," he said of the industry.

Paired with his academic pursuits, Jernigan began to apply his skills as a post-production assistant at National Geographic Television, a position that would culminate in four Emmy nominations and a win in 2005 for Outstanding Individual Achievement in a Craft: Graphic and Artistic Design, following his work on "Predators at War."

When asked whether the Emmys ever inspired his career, Jernigan was more than forthcoming. "No, because I didn't think it [an Emmy] was possible. I didn't even know I was nominated," he says. Look for more of Jernigan's Emmy-award winning (but co-worker inspired) pieces on shows like Apocalypse How? for Discovery TV, American Serengeti on National Geographic Television, and Mystery Quest on the History Channel.