Alumni Profile
Alumnus Nick Kuhn Continues to Find New Ways to Give Back to AU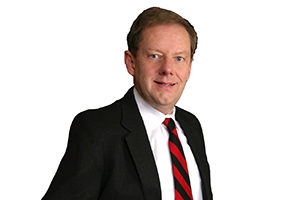 Alumnus Nick Kuhn, Kogod/MBA '86, is one of the lucky few who knew early on what he wanted to do. Nick says that from the age of 22 he wanted to go into the real estate industry. He has worked full-time in real estate since he graduated from Lafayette College with an undergraduate degree in business and economics. But, that's not to say that he didn't explore other avenues. During college, Nick held a summer job with a stock brokerage and did an internship with a government contractor. However, since he took a job as a real estate agent right after graduation, he hasn't looked back.
As an MBA student at AU, Nick loved the hands-on nature of his work. He enjoyed working on case studies, participating in large group projects, and crafting presentations. Now, as an alumnus, he continues to support the current students who are engaging in this work. He has served for many years as a judge for Kogod's annual Case Competition, which he feels is a great opportunity for students to sharpen their communication skills, presentation style, and problem-solving techniques. Nick says he enjoys serving as a judge because of the opportunity to see the students in action. "I like seeing how they problem-solve, innovate, work as a team, think on their feet, utilize what they learn in the classroom to arrive at solutions, and defend their recommendations as if they were in the business world," he says.  
In addition to Kuhn's ongoing commitment to helping Kogod students, he has continued to seek out ways to participate actively in the life of AU. In past years, Kuhn has assisted with Dean searches for Kogod and served as a member of the Real Estate chapter in Kogod while it was still in existence, presenting homebuyer seminars to students and alumni. He has also recently become involved with Bender Library as a donor to its special collections.
Now, Nick is serving his first term on the AU Alumni Board. His term began in January 2014, and he says he is enjoying his service. He has taken the opportunity to get to know AU even better and to spend more time on campus, at meetings, events, and athletic events. His role on the Scholarship and Awards committee of the board allows him to play a direct role in the awarding of scholarships to current students as well as selecting alumni award winners. Nick says that he would like to see AU continue to expand its reach and involvement with international alumni communities.
When asked what advice he has for AU students and recent alumni hoping to follow his footsteps, Nick says, "Participate in internships to learn the nuts and bolts of the career. Real estate is demanding and requires a firm commitment."