Alumni Success Story
SIS Alumnus Nur Ali Followed his Dream and Traveled the Fast Track from SIS to NASCAR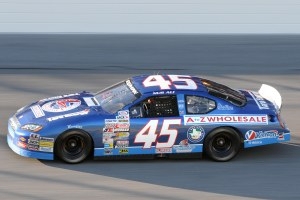 Since he was a little boy, Nur Ali, SIS/BA '98, dreamt of racing cars. His dream became a reality very soon after graduating from American University.
"Education is so important, and I am glad I had the opportunity to go to such a reputable school," says Nur. "But racing was what I wanted to do since I was a little kid."
Nur was born in Pakistan and raised in Germany until the age of eight. His family then relocated to Fort Worth, Tex.
Fluent in German, Urdu/Hindi, and English and raised by parents who were proponents of education and supportive of following one's dreams, with no prior race car driving experience, Nur went to Ohio to attend the Skip Barber Racing School just after graduating from AU.
After graduating from racing school, Nur went back to Texas, and, in 2005, he received an invitation to serve as the Team Leader for Team Pakistan in the A1Grand Prix – World Cup of Motorsport – an international racing series – making him the first driver of Pakistani descent to race professionally. President Musharraf launched Team Pakistan announcing Nur as the leader at an exclusive, extravagant affair.
Nur raced internationally for a few years with the intention to transition into NASCAR, which he did at the Kansas Lottery 300 at Kansas Speedway in the NASAR Nationwide Series on October 20, 2012. News spread quickly in his home country of Pakistan that Nur had become the first Pakistani-American to race NASCAR.
"I would not be where I am without my education from American University," Nur says. Outside of racing, he serves the community by mentoring and educating children about the importance of education. "Because I completed my education, I always have something to fall back on."
In mid-December 2012, Nur attended a three-day practice drive in Daytona Beach, Fla. and is continually striving toward his next goal. "I am either in the gym working with a personal trainer, strategizing with my public relations team on how to secure sponsorships, or serving the community," he says. He also is working closely with NASCAR to bring more visibility to the sport internationally.
Nur hopes to be either a part- or full-time driver with NASCAR in 2013. He is already scheduled to race a few junior races, including the NASCAR K & N Pro Series and the ARCARacing Series.