Alumni Profile
AU Alumnus Built Career around His Desire to Serve Others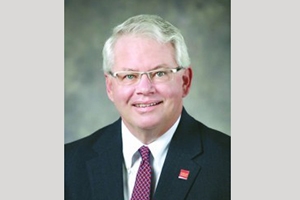 Growing up in an atmosphere where one was expected to volunteer, Patrick Morris, SIS/BA '79, Kogod/MBA '82, developed a passion for serving others at a young age. Born in Long Island, New York, his family moved to Harrisburg, Pennsylvania, where he finished high school. Morris was constantly exposed to a wide array of volunteer opportunities through his church, the Irish-American Society, and various political organizations. Morris recalls that "it was almost ingrained in you, from a very young age, to give back to one's community. It was and still is extremely important."  

Augmenting his early exposure to giving, Morris notes that AU played a major role in shaping his career goals. Through AU, he was able to travel and take additional course work at the Institute of International Studies, training in Fujinomiya, Japan and at the University of Antwerp in Belgium. AU, he says, provided him the opportunity to explore new ideas through an international relations lens. He developed a life-long love of learning.

With a zest for international affairs, Morris moved to Miami, a city known for its diverse population, in 1990. In 1993, he co-founded and was board chair of the non-profit Hands on Miami, a service that connects people to volunteer opportunities in the area. Morris took over as president and CEO in 2003. Following his success with Hands on Miami, he became vice president and chief development officer for the YMCA of Greater Miami, where he served from 2009 to 2012.

In November 2015, Morris was named community affairs officer for Wells Fargo. In this role, he maximizes Wells Fargo's impact on key issues facing the South Florida community, including education, human services, the environment, and affordable housing. Specifically, Morris manages the Wells Fargo Foundation's giving from Boca Raton to Key West. He scouts, vets, and places key executives in leadership positions on non-profit boards, in addition to managing the local Volunteer Chapter, which enables thousands of team members' participation in community service. 
He stresses the importance of improving society in all ways possible, of which time, talent, and treasure are most important. Morris believes that when businesses and corporations aren't socially responsible, they run the risk of alienating their customer bases. He says, "At Wells Fargo, caring for customers and communities is embedded in our culture," and that, in the age of technology and social media, there is a new level of accountability placed on companies because consumers can access information about the practices of most businesses almost instantaneously. 
Morris has unwavering commitment and passion for the work he does. Recently reminiscing on his days at AU, he recalled how he once wanted to become a foreign service officer. He had an interest in the developing world and remembered how Dr. Albert Mott mentored him and encouraged his involvement with Student Government and as director of the Kennedy Political Union. Through KPU, he was even able to bring a young Senator Joe Biden to campus, as well as former Senator Eugene McCarthy, and UK Prime Minister Harold Wilson, who inspired a lively debate on arms control.

His advice to current AU students is to gain as much valuable experience as possible. He says, "The people you meet now will parlay into deep friendships that will last a lifetime." Morris and his best friend, Miami Judge Steve Leifman, met at AU. They began as fellow resident advisors, and that relationship led to sharing a house on Yuma Street and becoming best men in each other's weddings. They now live right around the block from each other. Morris lives in Coral Gables with his wife Stacy, and children, Ellie and Brian.