Alumni Success Story
AU Eagle Prepares to Leave the Nest After 40 Years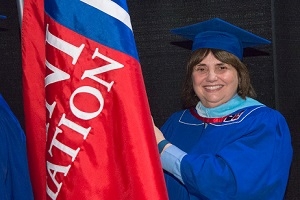 In August 1976, Patricia (Natale) Oltmann, CAS/MEd '78, left Rochester, N.Y. for Washington, DC, to enroll at American University. Nearly 40 years later, she is graduating from American University in a different way, concluding a nearly 20-year career as AU's alumni career programs coordinator.

"At a graduation almost 40 years ago, I walked across the stage to receive my master's in education from the College of Arts and Sciences," said Pat. "At the May 2017 CAS graduation, I walked in Bender across the stage carrying the alumni flag for CAS, so I guess I've come full circle!"

As a student at American University, Pat pursued a graduate degree in counseling and received her MEd from the College of Arts and Sciences in 1978. Just before her graduation, she visited AU's Career Center for help in her job search and found her first job - a summer employment coordinator position in Human Resources for the US Department of Health, Education, and Welfare.

Pat continued working for the government for the better part of the following decade. During this time, she also met her husband, Hank Oltmann, SPA/MS '78. Pat and Hank married and, in 1989, welcomed twin daughters. Following the birth of their children, she temporarily left the workforce to be a stay-at-home mother.

In 1997, Pat returned to work and was hired by American University's Office of Development and Alumni Relations to work on alumni reunions. She stayed in this role until January 2000, at which point she became the first alumni career programs coordinator.

"It was always a dream of mine to work on a college campus - I found my niche at AU, and it's lasted almost 20 years," said Pat.

In her role, Pat has served as the liaison between the Office of Alumni Relations and the Career Center and has worked to forge connections between students, alumni, and employers. Throughout her 17 years in this role, she has helped to connect more than 10,000 students with alumni and prospective employers, has facilitated 75 school-specific networking receptions, assisted with 33 job and internship fairs, and has helped plan 19 All-American Weekends. She has also filled in as a career advisor and worked on graduate outcomes.

"This job has fit my personality perfectly, because I love to connect people," said Pat. "I've been so lucky to work with two offices and two teams - it's just been a really wonderful career."

Pat's time at AU provided her with many exciting experiences, including the opportunity to meet important guests on campus such as Barack Obama, Caroline and Ted Kennedy, the Dali Lama, and Buzz Aldrin. However, her favorite experience at AU has been seeing students with whom she's worked return to AU as employers.

"It's such a thrill that people come back after they went to one of the networking receptions and got an internship that turned into a job, and now they're recruiting," she said.

Pat is proud of the progress AU has made over the past 40 years and is positive about the future of the school. "To me, the university has never been as good as it is now", she said. "Over the years, I've been increasingly impressed with the caliber of AU's students and alumni, staff, faculty, and leadership. Neil Kerwin has been a fabulous president-getting to know him and wife has been a real honor and a joy."

As she transitions to retirement, Pat will take with her the lifelong friendships she's made at AU and is looking forward to her next chapter. She plans to pursue health and fitness, travel, take some art and music classes, and continue her relationship with AU as an alumna. Once an Eagle, Always an Eagle!