Alumni Profile
Alumnus Captures the Power of Storytelling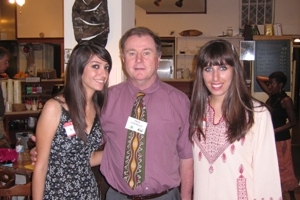 "If you want to change the world, you have to change the story," says Paul Costello, CAS/MFA '97.
He should know. For the past 20 years, Paul has been bringing young people from areas of conflict around the world to D.C. for the summer. His most recent venture, New Story Leadership, unites college students from Israel and Palestine.
"Understanding that Middle East is old-style leadership stuck in old stories, we have to find new leaders. We have to create new experiences that will spark them to write a new story," Paul says.
The students live with host families, learn the art of narrative storytelling, and immerse themselves in American culture – visiting the Library of Congress while learning about Martin Luther King, Jr.'s "I Have A Dream" speech and experiencing the Fourth of July festivities in the nation's capital. They also intern at prestigious institutions like Congressional offices and the World Bank.
"The power of the United States is the power of its stories, and D.C. is the perfect platform for these students to learn," Paul says.
Students work together to craft their stories and understand one another and then share those narratives with people who wouldn't otherwise hear them. Students have told their stories in Congress, embassies, and international conferences.
This is important, Paul says, because, "In Washington, the story of Israel and Palestine is largely told by politicians and government. We get these students a seat at the table by telling stories of hope. We are not trying to change the Middle East; we are trying to change Washington."
The bonds these students form are long-lasting and transcend cultural barriers. Paul recalls the story of a Palestinian student, Dia, who made the dangerous, day-long journey through multiple military checkpoints from Amman, Jordan to Palestine and then Tel Aviv, Israel, to surprise an Israeli friend, with whom he shared a host family in D.C., for her birthday.
In the past, Paul has worked with people from Northern Ireland and South Africa to open a dialogue and foster understanding. Paul credits much of his success to AU and the people he met here.
Kathie Hepler, CAS/MA '95, whom he met while studying at AU, worked with Paul for years. He also says Professors Henry Taylor, Myla Sklarew, Kermit Moyer, Richard McCann, and Jo Radner were inspiring. Jim Gray, an AU psychology professor, opens his home and hosts students for New Story Leadership.
"I have AU interns working with me all the time, and I just hired Elliot Jeffords, [SOC/BA '13], to be my summer program manager. … I don't feel I've ever left AU. I still get books from the library. I don't know where I'd be without AU. It's a backstop and an inspiration. I'm a huge booster. AU is in this work very deeply," Paul says.