Alumni Profile
Justice Wonk Serves in Historic Role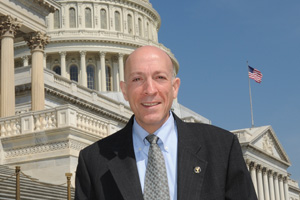 The United States House of Representatives unanimously elected Paul Irving, SPA/BS '79, as its Sergeant at Arms this past January. Just the 36th person since 1789 to hold the job, Paul is the top law enforcement official for the chamber, and alongside the Senate's Sergeant at Arms, oversees safety and security at the U.S. Capitol.

Paul's assignment includes working closely with members of Congress, the Capitol Police, and other officers of the House of Representatives on everyday security concerns as well as planning for special events. "It's a great atmosphere," he says. Paul also has ceremonial duties, including announcing, "Mister Speaker, the President of the United States!" at the commencement of the State of the Union address.
Prior to his current appointment, Paul retired from the Secret Service after a distinguished 25-year career and was the first Assistant Director for Homeland Security when that department was created in 2002-03. He oversaw the Secret Service's integration into the Department of Homeland Security.

While attending Whittier Law School, Paul clerked for the FBI and, after graduating, he joined the Secret Service, where he conducted criminal investigations pertaining to counterfeiting in Los Angeles. His career first brought him back to Washington in 1986 and included time as an instructor at the Secret Service Training Academy, the Presidential Protective Division, liaison to Congress, and time with the White House transition team for the new Department of Homeland Security.
As a child, Paul spent several years living in Mexico City where he developed an interest in international relations and applied to American University after hearing about the school's academic offerings, often during events he attended at the American embassy.
At AU, he says, "I fell in love with the law and criminal justice." Though he took many international relations courses, his major was justice, which he says was a great fit for him. "AU really set me up. It prepared me for the challenges of my work in the Secret Service, for law school, for clerking with the FBI," Paul says. "American University set a really good foundation for all that. I'm really grateful."
On a recent visit to campus with his son, who will be a freshman at AU this fall, Paul was reminded of time in Anderson and Leonard Halls, concerts in the amphitheater, and camping out on the steps of the Supreme Court trying to get in to hear oral arguments.
Asked what stands out most about his time at AU, Paul recalls an internship with the Department of Justice and says, "Just everything. Getting to know Washington, D.C. was great for me. I took full advantage of Washington…You just can't equate the experiences you get going to college at a place like this."