Alumni Success Story
Socially Conscious Alumna Writes Stories That Inspire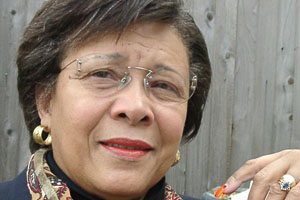 AU alumna Pearl Rance-Reardon, CAS/MFA '96, has always had a talent for writing. In the first writing contest she ever entered in the Caribbean, she received an Honorable Mention for her work, and since then has written poems featured in magazines and read to diverse audiences across the country.
This May, Rance-Reardon will return to AU as part of the Alumni Book Club Series to discuss her book, Little Back Room: A Collection of Short Stories. Featuring nine stories of varying lengths, the book was written as a way to introduce readers to what life is like growing up in the Caribbean, and also the plight of women, which Rance-Reardon sees as a worldwide social problem.
One of her favorite stories in the book, "A Lizard in the Teapot," addresses women, class and relationships. One of the more powerful stories in her book, "The Shape of a Stone," deals with abortion, the dual standards that affect women who have to make this choice, and the consequences of girls being afraid to tell their parents that they're pregnant.
"My objective is that when someone reads my work, they're able to visualize it…. In some of my stories, you can see," Rance-Reardon acknowledges. "You can't write from a lie. You have to write from the truth. That's what I tend to write." And while the subject matter is definitely focused on serious issues, Rance-Reardon does her best to blend in humor throughout.
"I'm a socially conscious person," she says. "In everything I do, I think about the cultural consequences…. I've written a lot about the Caribbean, and people tell me I shouldn't write this stuff about the islands," she admits, as often her work describes the social injustices of poverty and inequality amongst the Caribbean people. But Rance-Reardon stands firm in her work. "I once heard Edward Albee speaking at the Kennedy Center, and he said something that has stayed with me: 'When you write something, don't let anyone change it.' So I don't."
The grandmother of six and an avid international traveler (she's been to 118 countries), Rance-Reardon splits her time of late between her homes in Washington, D.C. and Harper's Ferry, W.Va., although she and her husband Michael Reardon consider Harper's Ferry home. She is working to finish her next project, a novel based on a true story--with imaginative liberties--and set in the Caribbean.
Rance-Reardon has also written several plays that have been produced by the Source Theater, the University of the District of Columbia, and AU's Experimental Theater. She was an At Large Nominator for the Helen Hayes Awards and one of the stage managers for Play Memory and Ain't Misbehaving at Silver Spring Stage.

In addition to her writing, Rance-Reardon is a member of the Board of Directors for the American Civil Liberties Union and West Virginia Public Broadcasting.
Register for Rance-Reardon's discussion on Wednesday, May 11 by visiting our Alumni Events Web site.