Alumni Success Story
South Florida Chapter Leader '06 Draws Inspiration from Global Network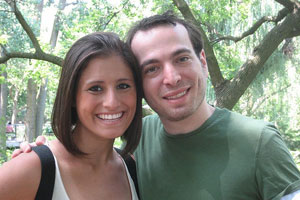 Rachel Goldstein, SIS/BA '06, still keeps in touch with one student whom she encouraged to attend AU. "This is what makes my work as a chapter leader so rewarding," she says. That, and meeting alumni from across the nation and the Sunshine State.
Originally from Texas, it was a spring break cruise that drew Goldstein to South Florida. "I came here with some girlfriends during senior year and I just looked around and realized that this is where I need to be."  
Since moving to the Miami area, Goldstein has been dedicated to the alumni network. Last year she became a chapter coleader with Carl Hildebrand, SIS/MA '02, and has been helping to organize Florida alumni events ever since. Goldstein's main goal is to grow the chapter. "I want people to meet each other and get involved in the network that I have found to be such a great experience."  
From watching AU in the NCAA tournament and getting a guided tour of the Regent Bal Harbour's $4 million dollar contemporary art collection last June to helping organize a wine tasting and listening to a star professor at last month's Faculty on the Road event, Goldstein works to spread the word about events that appeal to alumni across different ages and interests. The next alumni chapter event, a Japanese Tea Ceremony demonstration at Morikami Museum and Gardens, will be held on May 15.  
"To take all the opportunities and people you meet as an undergrad at AU – friendship and professional – is so important. We can continue to use that relationship we have with AU to help ourselves and others."  
Goldstein gained event-planning experience as an undergrad working closely with her sorority, Phi Sigma Sigma, and the Pan-Hellenic Council to plan events while balancing a busy academic schedule and a semester spent studying abroad in Madrid.  
"I just feel like I had such a wonderful undergrad experience – I met so many great friends and people that I'm able to keep in touch with across the United States and the world. It's incredible to know that all this comes from AU. It's created my passion for becoming a chapter leader."
She currently works in commercial real estate in the Miami area concentrating on retail tenants and shopping centers.