Alumni Profile
Alumnus Leading the Charge for Environmental Protection in Puerto Rico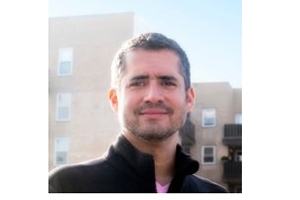 How do you commute to work when you are the vice president of the Environmental Quality Board of Puerto Rico? By bicycle, of course! Ramon Cruz, SIS/BA '98, was appointed by the governor to the Board (in Spanish, it's the Junta de Calidad Ambiental), which is essentially the state-level iteration of the Environmental Protection Agency. The appointment marked a career shift for Cruz from non-governmental advocacy to working for the government directly. The experience has been both satisfying and frustrating at times, Cruz says, but he remains committed to impacting policy and the quality of life for people in Puerto Rico. 
Cruz is directly involved in the regulation of many forms of pollution –air , water, soil, light, and noise. Regulations come in two forms, in public policy decisions and in quasi-judicial decisions by the board with regards to compliance. Cruz is one of three members who are both establishing the policy and seeing that it is properly implemented. This combination of impacting macro-level policy and adjudicating micro-level compliance is one of the things Cruz likes most about his role on the government side of environmental policy.
Cruz credits his time at American University as the inspiration for his career in energy and the environment. Growing up in Puerto Rico, local-level politics dominated, and it was not until coming to Washington that federal and international perspectives really began to impact Cruz's academic and professional aspirations. From starting the Global Gourmet club on campus to presenting papers at academic conferences, Cruz met people with a diverse range of perspectives, experiences, and passions. 
While climate change is the pre-eminent issue today, Cruz recognizes that more must be done to address environmental development and justice. "If I could change something, it would be the way U.S. cities work. I would plan cities to use resources more efficiently. Fuel consumption and social exclusion are both results, in part, of the way cities were planned," he says.
Though pushing for environmental and energy policy and compliance can at times feel like facing a wall, Cruz says the small changes that impact people's lives keep him going. He hopes that he will leave Puerto Rico better than he found it –with improved energy reforms and closer to addressing climate change. Until then, he continues to take a lead role in protecting the environmental integrity of Puerto Rico, and of course, biking to work.